Since a police report was published last week showing Josh Duggar was accused of molesting several underage girls when he was a teenager, Jim Bob Duggar, the patriarch of the reality-TV-famous family, has publicly voiced support for his son, who is now 27.
More: Jim Bob, Michelle Duggar now dealing with extreme child abuse allegations
But Jim Bob's campaign website, still web cached from his 2002 bid for the Arkansas Senate? Not so much.
On the website, in a section explaining his stance on abortion, Jim Bob wrote that both rape and incest should be capital crimes.
"If a woman is raped, the rapist should be executed instead of the innocent unborn baby," he wrote. "Rape and incest represent heinous crimes and as such should be treated as capital crimes."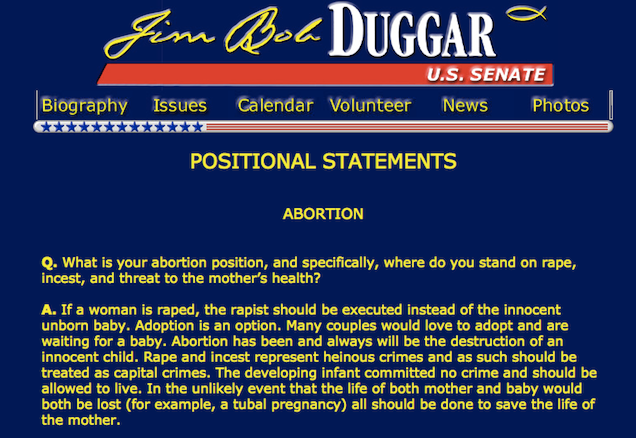 Image: Jimbob.info
More: Michelle Duggar admits she's not yet content with the size of her family
According to the police report, obtained and published by In Touch Weekly after a Freedom of Information Act request, both Jim Bob and his wife, Michelle, knew about Josh's crimes, though instead of allowing him to face prosecution, they sent him to a counselor — later revealed to be a family friend — and had him talk to a state trooper, who never filed charges. Josh has since admitted to the crimes.
We don't know for sure, however, if any of the victims are actually his sisters. The police report states that several of them were members of the Duggar household, so it's widely assumed that they were. It's also unknown exactly how extensive the abuse was, though it's highly unlikely, based on current evidence, that Josh Duggar raped any of his victims.
In a statement, the Duggars said Josh admitted to the abuse and that it "caused him to seek God like never before."
More: Montel Williams rips the Duggars to shreds over molestation, LGBT issues
"We have challenges and struggles everyday," the statement continued. "It is one of the reasons we treasure our faith so much because God's kindness and goodness and forgiveness are extended to us — even though we are so undeserving. We hope somehow the story of our journey — the good times and the difficult times — cause you to see the kindness of God and learn that He can bring you through anything."