Warning: Major spoilers are ahead for the second-to-last episode of Mad Men. Don't read if you're not ready to know how it all ends.
More: Peggy gets really feminist about one-night stands
Mad Men's final season is quickly running down and in its last few episodes, we're seeing more time spent with everyone else and very little of a proper wrap-up for Don Draper. The most shocking character conclusion we learned this week was what's to become of Betty Draper Francis. This season saw Bets head back to school, and in this week's episode, a tumble on the school's stairs sent everyone's favorite messed up mom to the emergency room. Once there, a set of perceived broken ribs turned into a traumatic cancer diagnosis.
Though Betty didn't want to tell her children the doctor gave her only about a year to live, her new husband paid a visit to Sally's boarding school to fill in her oldest kid on the terminal diagnosis. He then brought Sally home to talk to Betty, hoping she'd come clean to the boys and persuade her to seek treatment. We saw two sides to Sally during the drama.
There was the loving, devoted daughter side of her that begged her mother to seek treatment, promising to be there with her through it all. And then there was the normal, insightful (though not always accurate) and sassy version of Sally that understood her mother would never want treatment because then she'd miss out on the chance to be part of a tragedy.
More: Why one writer has serious issues with this period drama
During the past seven seasons, we've watched Sally Draper grow up and, along the way, witnessed some of the best lines of the show coming from the mouth of one of the youngest cast members. Sally was particularly opinionated in regards to her mother, almost always unforgiving and harsh with her judgment. Perhaps because of that, viewers have tended to judge Betty similarly to Sally. This week, though, we were reminded just how unfair that might have been. Betty truly is one seriously strong woman.
We've known for a while that Bets had some issues. Nearly from the very beginning of the show, we saw Don grapple with how to deal with them. Betty's mother died young, and it seems like for a long time she struggled with whether she was really sick like her mother or just emotionally scarred from the experience of losing her. She still got up every morning, though, and (with the help of the Draper family's "girl") went through the motions of being a decent mom and wife. Breakfast and dinner were at the table, lunches were packed and the house was always spotless. And while the vast majority of that might have been done by their help, we suppose there's something to be said for "running a tight ship."
She was also a seriously tough wife. We watched her call out her husband on his infidelities. We even saw her handle her husband's identity deceit with anger instead of the typical-of-media's use of the frail, crying woman. While she may have remarried, she'll always be Betty Draper to us because, honestly, she was probably the only one who could really handle Don… if she wanted to. And she was certainly the one who was with him the longest and put up with the majority of his BS. And, no, she didn't do it because she felt like she needed him. She did it because she thought it was in the best interest for her children. After well, her only example of a divorced woman was Glen's mother, and that wasn't exactly a ringing endorsement.
Betty also showed strength in her relationship with Sally. It's easy to love and glorify Sally because we've practically watched her grow up. Unfortunately, we've also witnessed Sally in some of her darkest hours. For nearly all of Mad Men's run, Betty has had to play the bad cop while Don's absence made him the good guy by default.
No one knows a mother better than her daughter and because of this, no one can hurt a mother like her daughter, either. Still, Betty stuck by Sally. (Almost) Always offering the typical motherly-if-slightly-untimely-insight in an attempt to guide her daughter gracefully into womanhood. Sally's bitterness toward her mother, well-placed or not, no doubt stung the mother, but she always let it roll right off her back. Most likely because she saw herself in Sally's sneer and knew it was only a matter of time because Sally was looking in the mirror, cringing and saying, "Oh, God. I've become my mother."
In the end, Betty's life was far from perfect, and not all her choices were ringing with selflessness. But, she tried. And she pushed ever forward. And she did the best she could with what the world and husbands offered her. For that, we think she deserves a little more credit than we've given her. And a lot more love than we've offered.
Here's to you, Betty Draper Francis: You crazy, loving, strong-willed woman. Here's to you, all the stuff you've gone through and all the stuff you've put us through.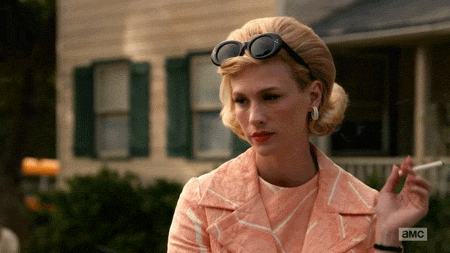 Image: Giphy.com
More: Fun baby names inspired by our favorite ad men and women