If Diane Von Furstenberg actually posted this photo to Instagram, she has some explaining to do.
More: Kardashians' reactions to Bruce Jenner's transition changes our opinion of them
The photo, showing Bruce Jenner's face Photoshopped over an iconic image of von Furstenberg in her famous wrap dress, is making waves online — and for good reason. Screenshots making their way across gossip sites and regrams posted to other Instagram users' accounts seem to point to von Furstenberg as the original poster of the altered image.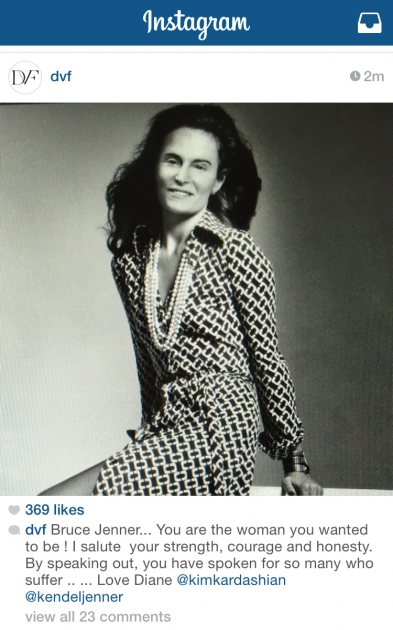 Image: Access Hollywood
The caption reads, "Bruce Jenner… You are the woman you wanted to be! I salute your strength, courage and honesty. By speaking out, you have spoken for so many who suffer."
The caption is signed "Love Diane," and Kim Kardashian and Kendall Jenner are tagged, though Kendall's name is misspelled in the tag.
The image does not currently show up on von Furstenberg's Instagram account, so if it's true that she posted it, she's since removed it.
And when Access Hollywood asked the famous designer to comment on the photo, she replied only, "I admire Bruce Jenner's strength, courage and honesty and have so much respect [for] him using his voice to speak for people who have none. I wish him nothing but a lifetime of happiness."
The caption makes it clear that if von Furstenberg did actually post the photo, she meant well. But altering Jenner's image and superimposing his face over her own is a little misguided. Though Jenner announced that he does consider himself a woman during an interview last week with Diane Sawyer, it's up to him to decide how he wants to dress and represent himself now. It's not Diane von Furstenberg's — or anyone else's — job to make those decisions for Jenner.
More: Demi Lovato said the best thing about Bruce Jenner at her concert (VIDEO)
Do you agree? Do you think the photo tribute was classy or tacky? Head down to the comments and tell us what you think.