Robert Downey Jr.'s The Avengers costars took the stage at Sunday night's MTV Movie Awards to present his Generation Award. "They're so much fun to work with," Downey laughed during his acceptance speech?.
We've heard that costars Downey, Chris Evans, Chris Hemsworth, Mark Ruffalo, Scarlett Johansson and Jeremy Renner are even more of a team than their characters in The Avengers: Age of Ultron (coming to theaters on May 1). In fact, we hear some of them are just like their characters.
Robert Downey Jr. really is Tony Stark/Iron Man
Tony Stark is a "genius billionaire playboy philanthropist" (in his own words) who invented the Iron Man suit. Let's add "arrogant" to the list. Downey, who is smart and plenty rich (he netted $50 million for The Avengers alone), mentioned his own partying past in his acceptance speech, and just last month, he gave a bionic arm to a boy who needed one.
Not convinced? Downey is.
Chris Evans really is Steve Rogers/Captain America
Image: E! Online
Steve Rogers, who took up his shield as Captain America in World War II, was frozen in ice until the present day. His personality and morals are still pretty well-anchored in the 1940s. Evans is quite the gentleman himself. When Betty White received the Favorite TV Icon award at last year's People's Choice Awards, Evans stood up from his aisle seat to escort White up the stairs to the stage.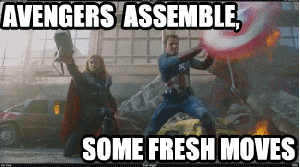 Image: Giphy
Evans also seems to have caught the leadership role that Captain America takes on. During filming of The Avengers, Tom Hiddleston (who plays Loki) told reporters that Evans sent a group text that simply read "Avengers assemble." And assemble they did — at a bar in Albuquerque, New Mexico.
Chris Hemsworth and Tom Hiddleston really are like brothers
Thor and Loki's brotherly conflict looms large as a theme in all the Avengers movies. Maybe there's something about playing brothers that really brings you close to your costar.
Images: Tumblr
Mark Ruffalo really is as gentle as Bruce Banner
Bruce Banner is a scientist who transforms the Incredible Hulk whenever he gets angry, and when he's not a big, green smashing machine, he is calm, unassuming and gentle. You know who else is a real sweetheart? Ruffalo. He and his daughter Bella wore matching suits to the MTV Movie Awards.
And if that's not enough, check out the clip of Ruffalo on Jimmy Fallon below. At :48, Ruffalo tells a story about visiting his daughter's preschool — and one child recognized him as the Hulk. You will melt over his response, seriously.
19-year-old actor Tom Holland makes an appearance in Captain America: Civil War as none other than our favorite arachnid, Spider-Man. Here he is testing out Thor's Hammer in real life.
Chadwick Boseman makes his first appearance as Black Panther in Civil War. Boseman appears to be just as rebellious in real life as Black Panther is in the comics by insisting he does his own stunts.
Also back for more thrills is Sebastian Stan as Bucky in Civil War. It seems he can't ever get enough of The Avengers because when he's offscreen, he's hanging with the OG Hulk, Lou Ferrigno.
Are these actors perfectly cast as their Avengers characters? Let us know in the comments.