Looks like it's time to invest in Dr. Scholl's and denture cream because this year's MTV Movie Awards has us feeling super old!
More: 14 Seriously fierce MTV Movie Awards outfits in 2015
Were we the only ones scratching our heads and worrying about staying up past our bedtimes? Check out our reactions to this year's MTV Movie Awards and let us know if you think we should just move into the old folks home now.
1. What is up with that set?
Image: Giphy
2. How many vagina jokes is Amy Schumer allowed to make in one set?
3. Is it wrong to want to do naughty things to Zac Efron?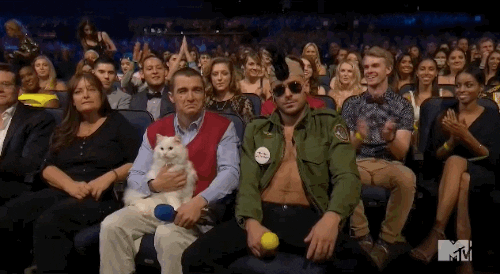 Image: Giphy
4. Seriously, does the "V" in MTV now stand for vagina?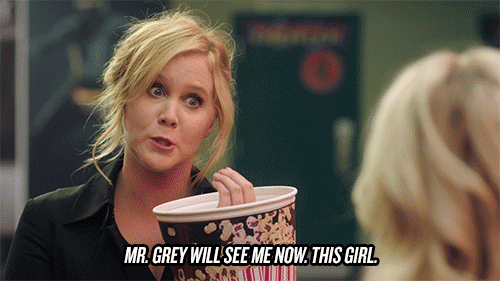 Image: Giphy
More: The Magic Mike XXL stars' MTV Movie Awards speech about women was condescending
5. I didn't know Vin Diesel could sing… oh, wait.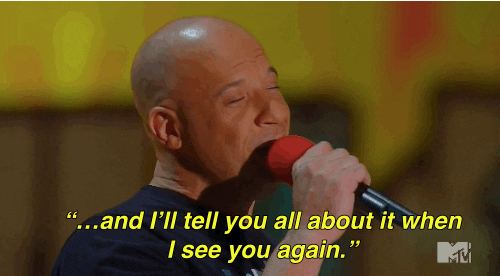 Image: Giphy
6. Oh, Amy Schumer knows the pain of wearing Spanx, but did she really just say those guys made her rain in them?
More: 10 Amy Schumer MTV Movie Award quotes that were way too raunchy for teens
7. Jennifer Lopez. Never. Seems. To. Age.
Image: Giphy
8. Am I the only one cringing at the masturbating women in the theater skit? Oh, God, I am. How did I get this old already?
Image: Giphy
9. Why is there poop everywhere?
Image: MTV
10. Was there a "bring your own nearly naked male model" challenge this year that I didn't hear about?
Image: Giphy
More: What message do we send by using shirtless men as props at the MTV Movie Awards?
11. What does "take it up the Gary" mean?
12. Is anyone else worried about youngsters who might be watching and absorbing Amy Schumer's super-adult humor?
13. Robert Downey Jr. got an award — finally, someone I recognize from my youth!
Image: Giphy.com
More: Robert Downey Jr.'s MTV Movie Awards speech sends teens a powerful message
14. Who are these idiots spoofing Robert De Niro and grabbing each other's crotches? Oh, wait, it's Zac Efron and Dave Franco? Why, Zac, why?
Image: Giphy
15. Do the young people who are watching this show notice all of the blatant advertising assaulting them or do they just chalk it up to the price of watching award shows?
16. Holy pink kitties doing naughty things… I feel weird. And like I kind of want to call those pink kitties' mamas and ask if they know where their kittens are.
Image: Giphy
17. Oh, wait, it's not over? I thought that was the finale… that wasn't the finale?
More: Charli XCX performs a super-inappropriate song on MTV Movie Awards (VIDEO)
18. Why is Rebel Wilson dressed as an angel, and did she really just almost say "clit" instead of "clip"?
Image: Giphy
19. Oh, thank God, it's over. I have to work early tomorrow….