In a recent interview with Yahoo's Style Session, Paris Hilton admitted of Kim Kardashian, "It's nice to inspire people." But how big of an impression has Hilton really had on her former personal assistant?
We take a look at the celebutantes to see who was the bigger influence with a little round of "who did it first?"
1. Date a millionaire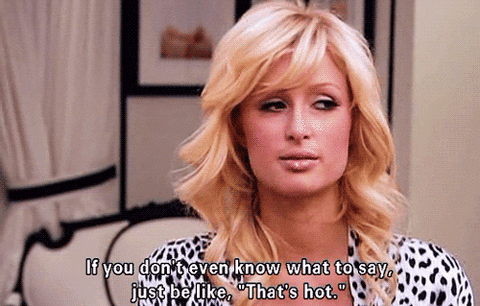 Image: Giphy
Even though a then-19-year-old Kardashian eloped with music producer, Damon Thomas, back in 2000, it's hard to say with any certainty if Thomas had the kind of assets required of a millionaire (that came later, in 2007, with NFL star, Reggie Bush). Hilton definitely hooked up with a millionaire, though, when she coupled with Backstreet Boy Nick Carter in 2003… not to mention Greek shipping heir, Paris Latsis, in 2005.
2. Make a sex tape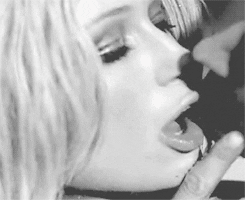 Image: Giphy
Hilton trumps Kardashian on both fronts here: the making of and the leaking of. In 2001, Hilton and then-boyfriend, Rick Salomon, made their own skin flick behind closed doors. Salomon leaked the now-infamous 1 Night in Paris in 2003 — the same year, Kardashian, unbeknownst to the world at the time, was making a home porno of her own with then-boyfriend Ray J. It didn't get its internet debut until 2007, though.
3. Star in a reality show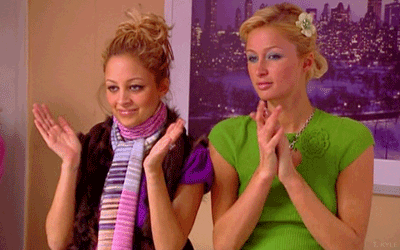 Image: Giphy
Fortunately, 2003 wasn't an entirely terrible year for Hilton. Shortly after the release of her sex tape, Hilton became a household name, thanks in large part to the reality show, The Simple Life, which she filmed alongside her bestie, Nicole Richie. Although the Kardashian family didn't make it to the small screen for Keeping Up with the Kardashians until 2007, audiences actually met Kim during Hilton's Simple Life days — back then, she was Hilton's BFF/stylist/personal assistant.
4. Pose nude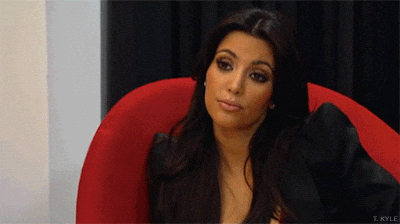 Image: Giphy
Toss up? Research (aka a decidedly NSFW Google quest) points to both ladies disrobing for the first time for public consumption in December 2007. That month, Kardashian appeared in Playboy, while Hilton posed nude — albeit covered with gold paint — to promote Rich Prosecco sparkling wine.
More: Kanye West praises Kim Kardashian by posting tons of nude pics (PHOTOS)
5. Appear in a major motion picture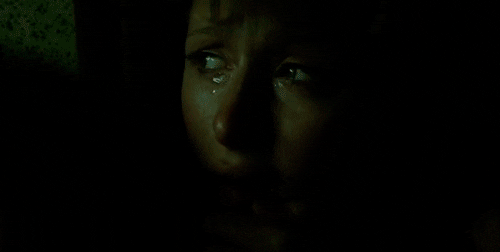 Image: Giphy
Hilton only edged Kardashian out for this one by a few short years. Thanks to a stint on Saturday Night Live in 2005, the hotel heiress landed her first major role in the horror movie, House of Wax. Kardashian didn't garner a sizable part until 2008, when she played Lisa in the popular spoof, Disaster Movie.
6. Spawn butt implant rumors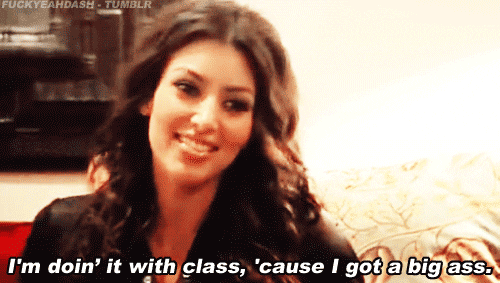 Image: Giphy
After Hilton started popping up poolside in 2012 with a seemingly fuller derriere, the media considered the possibility the heiress may have gotten her cheeks enhanced — and we're not talking about the ones on her face. Still, butt implant rumors have been plaguing Kardashian since, like, forever. Bottom line (pun intended)? This one goes to Kardashian.
More: Paris Hilton's Instagram pic has people asking: Did she get plastic surgery?
7. Enter the fashion arena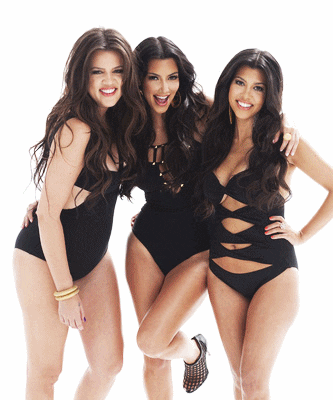 Image: Giphy
Sure, the Kardashians have been building their clothing and accessories brand since early 2010, when the sisters first came together to launch the Kardashian Kollection. But it was the launch of their boutique DASH in 2006 that gives Kimmie the edge over Hilton, who debuted her first clothing line in 2007. Notably, though, the heiress now boasts 44 Paris Hilton stores worldwide, which gross in excess of $10 million in product sales annually.
8. Release an original music video
Image: Giphy
In 2006, Hilton premiered the video for her first "hit" single, "Stars are Blind." Surprisingly, it wasn't entirely panned. (Hey, I liked it, OK.) It wasn't until four years later that Kardashian debuted the music video for her song, "Jam (Turn It Up)," which was pretty much universally lampooned. Her heart was in the right place, though — Kardashian donated half of the proceeds to cancer research.
9. Cameo in Zoolander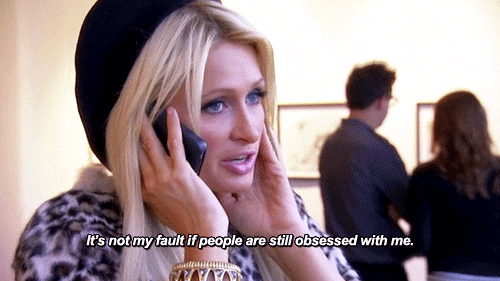 Image: Giphy
Well, no contest here. While Kardashian is rumored to have a cameo in the highly anticipated Zoolander sequel slated for release in 2016, Hilton appeared as herself in the cult 2001 original. At the time, she had been dubbed "New York's leading It Girl."
More: Rob Kardashian posts strangest picture, message about Kim (PHOTO)