Directioners the world over are in mourning today as Zayn Malik made it official — he's leaving the band. It isn't hard to understand why fans love this long-lashed heartthrob so much, either. Here are some of Malik's most crush-worthy moments.
1. When he made every girl feel gorgeous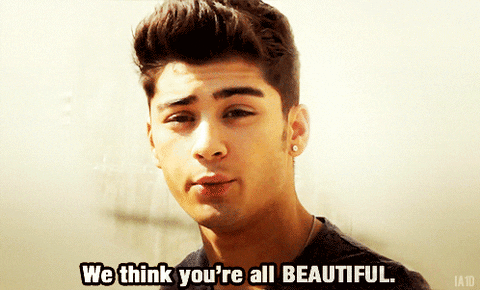 Image: Giphy
Malik has always had a special knack for making every fangirl feel special. But, even more so, for reminding women everywhere never to let anyone make us feel anything less than stunning.
2. When he ate a candy thong right off of Harry Styles
One thing fans always found endearing about Malik was the fact that he didn't take himself too seriously — he is just a super-chill dude always up for a little fun… like eating a candy thong. Sweet!
3. When he cuddled a puppy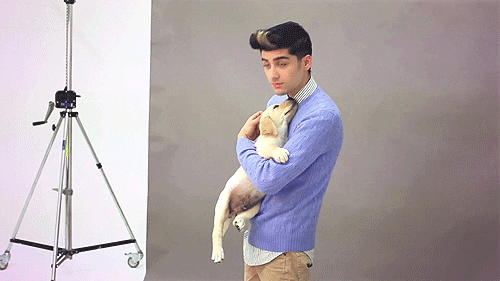 Image: Giphy
That hair. Those eyes. And, well yeah, the puppy is pretty adorable, too.
4. Every single time he bit his lip…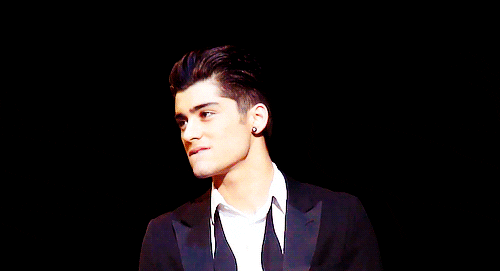 Image: Giphy
How could anyone be faulted for falling in love with a face like that? It just makes us feel some kind of way and we're not afraid to admit it.
5. Or smiled
Image: Giphy
One look at Malik's smile leaves one with little doubt that he is every bit as down-to-earth and decent-hearted as we imagine.
6. When he reminded us what's important
Image: WENN
"Learn to appreciate what you have before time forces you to appreciate what you had," Malik advised, later emphasizing that life does, in fact, have an expiration date. Carpe diem!
7. When he flashed a little booty cleavage
Image: Giphy
I mean, you've gotta admit his tush is top-notch.
8. When he proposed
Image: WENN
While it might seem counterintuitive to be happy your favorite heartthrob is going to get hitched, Directioners fell in love with the way Malik doted on his girlfriend-turned-fiancée, Perrie Edwards.
9. When he rocked a pseudo-mullet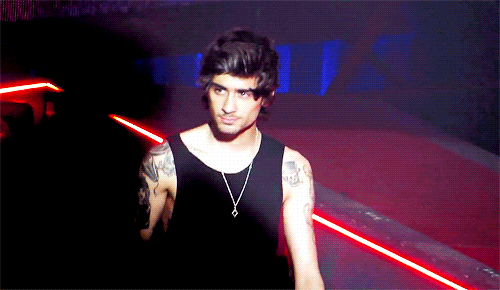 Image: Giphy
What's not to love about a man who dares to bring back Uncle Jesse's — aka John Stamos' — Full House 'do?
10. When he comforted a child in need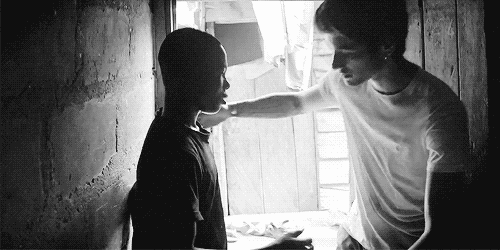 Image: Giphy
Malik's insides match his outsides — seen here hugging an impoverished child in Africa, his humanitarian work brought to light his beautiful soul.
11. When he made every girl ever swoon
Image: WENN
"It hurts seeing a girl cry," Malik said. "I want to comfort them for as long as I can, or I'll end up crying, too." Awww!
12. When he showed off his fine boxing form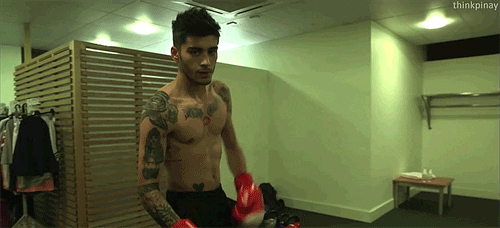 Image: Giphy
The fact that he was shirtless while showing off said form did not hurt matters. Check out those tatts… yummy. Amiright?
13. When he proved he'd be just as pretty as a lady

Malik dared to cross-dress for a music video and, you know, we were kind of crushin' on his alter ego.
14. When he hit this note
Arguably the best singer of the group, Malik has a serious set of pipes. Will One Direction be able to go on without missing a beat sans this talented guy? It seems unlikely.
15. When he stayed true to himself
No matter how much you love Malik or One Direction, or if your heart is breaking into a million pieces right now, you can't fault Malik for doing exactly what he has always told his fans to do: Stay true to yourself.
More on Zayn Malik
Zayn Malik officially quits One Direction for one very normal, mature reason
Zayn Malik ditches 1D tour: Fans and vicious rumors to blame
Zayn Malik on drugs? Nope, it was worse