It's starting to feel like there's a new #ItGirl in our midst. Rumer Willis killed it on the dance floor in the premiere of the new season of Dancing with the Stars? — to the tune of some media outlets already predicting we have a winner. The 26-year-old will undoubtedly reveal her moves as the season progresses, but I thought we should all learn a little more about her from the get-go.
More: LMFAO's Redfoo reveals his new DWTS BFF, and our one hint is: Thighmaster
1. She was named after a British author
Rumer Godden, to be specific. It stands to reason that either her mother (Demi Moore) or father (Bruce Willis) was a fan, right? Or maybe they just did what the rest of us did when we were expecting… perched in bed with a baby name book.
2. She hails from Paducah, Kentucky
Image: In Country, Warner Bros.
"Hails" is a strong word for being born on location. (Bruce Willis was filming In Country at the time of her birth.) Still, if Rumer continues to samba across that dance floor, we can pretty much expect Paducah to claim bragging rights. She grew up in Hailey, Idaho, with her two sisters, Scout and Tallulah.
3. One of her besties is having a big year, too — Dakota Johnson
Image: Giphy
How's that for Fifty Shades of coinkydink? It's good to be them in 2015.
More: Will we also see Rumer Willis protest topless? We think not
4. She's played the daughter of both of her parents in movies.
Image: Castle Rock
First she was the daughter of Demi Moore's character in Striptease in 1996…
Image: Miramax
… and then she played Bruce Willis' character's daughter in Hostage in 2005.
5. She has film credits listed under the name of Willa Glen
Her middle name is Glen, so this makes sense in a Hollywood sort of way.
6. She hung Ashton Kutcher posters in boarding school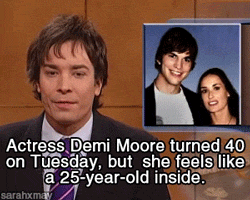 Image: Giphy
Long before her mother was the object of his affection, young Rumer thought he was wall-worthy.
7. Rumer was Miss Golden Globe in 2009
Image: WENN.com
The title awarded by the Hollywood Foreign Press is given annually to the offspring of a celebrity. The honor has a way of setting one up for a future spotlight, possibly even a mirror ball trophy? Other Miss Golden Globes include Melanie Griffith, Anne Archer and Linda Evans.
More: Don't even think about Photoshopping Rumer Willis
8. Her uncle is special effects guy, Morgan Guynes
His works include Along Came Polly, Grown Ups 2 and Austin Powers: The Spy Who Shagged Me. He's Demi Moore's half-brother and her birth name was Demetria Guynes. (I buried the lead.)
9. Rumer was slow on the uptake when it came to Twitter
She told People mag a few years back that Facebook was more her style and that Twitter felt more like a chore. From the looks of her Twitter feed this week, it would appear that she caught up.