You guys, we need to talk about Meechum.
More: 12 Times House of Cards' Frank Underwood made us uncomfortable
(Spoilers ahead, obviously.)
Granted, I'm only about halfway through Season 3 of House of Cards. And so far, nothing is confusing me as much as Meechum's absence.
And I don't mean absence in a strictly literal sense. Meechum is there. He hasn't disappeared. That's what makes it so confusing. The character who gave us only the most massive plot twist in all of recorded history last season when he had a celebratory threesome with Frank and Claire Underwood is still hanging around. He's still Frank's go-to Secret Service guy. He's still following President Underwood everywhere he goes, doing what Secret Service agents do.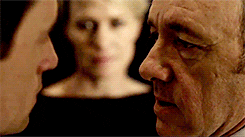 More: House of Cards Season 3 gets release date and preview (VIDEO)
But that's all he is. Even after his surprising-as-all-hell sexual rendezvous with the Underwoods, a pretty shocking, major plot event that one would think would elevate Meechum to a more significant role on the show, he's very much a secondary character — in fact, even more so in Season 3. He's just kind of casually in the background of some scenes, not saying anything, while all of us are yelling at our laptop screens wanting to know why having sex with the show's main character and his wife doomed Meechum to obscurity.
Knowing House of Cards, there's still plenty of time in the remaining episodes for something to change, and I sincerely hope this mystery gets solved. Because I, for one, cannot go another year without resolution. That threesome thing was way too weird, and I need an explanation, dammit.
More: House of Cards trailer: Are Frank and Claire on the rocks?
Anybody else out there feel the same way? What's your take on this whole Meechum thing? Head down to the comments and let me know.