Sometimes it seems like everything in the entertainment industry is a boys' game. If we learned nothing else from the 2015 Grammy Awards, though, it's that girls… they run the world. Especially at the Grammys.
These ladies in particular really owned the night.
More: Rihanna's dress was crazy… and reminded us of a lot of things
Hayley Williams
Paramore won their first ever Grammy award. That was a big deal for them but an even bigger deal for the Grammy awards. Why? It was the first time since 1999 that a woman won in the Best Rock Song category. More importantly, Paramore won a category in which Hayley Williams was the only woman in the bunch. Well played, girly!
Gwen Stefani
Our girl Gwen won the Grammys twice: once in that amazing red Barbie-like dress and, again, for her red carpet ensemble, a sexy-ass pantsuit. All those boys in their suits were pretty as hell, but it was Stefani we wanted to take home. Can you say "girl crush"?
Brooke Axtell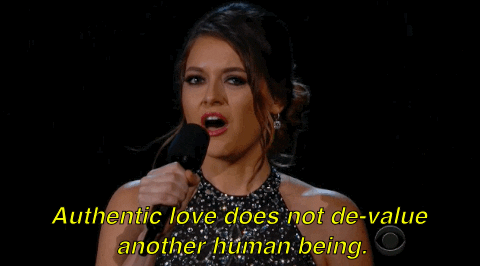 Image: Giphy
Most people didn't even know who Axtell was when she took the Grammys stage after President Obama's moving domestic violence PSA. By the time her two-paragraph speech was done, though, she'd brought everyone at the Staples Center to tears… and everyone at home. Seriously. You should see the pile of tissues. (And read her speech.)
More: Check out the full list of 2015 Grammy winners
Kristen Wiig
As awesome as it was to see Shia LaBeouf and hear his weird little letter, he was quickly outshined by Sia's other "special guest." Topped off with a wig of Sia's signature platinum bob, Saturday Night Live veteran Wiig performed alongside Sia's bitty BFF, Maddie Ziegler, dancing her butt off with tons of heart and a surprising amount of talent.
Lady Gaga
Image: Kevork Djansezian/Getty Images
Listen: We love Tony Bennett as much as the next music lover (though not as much as our moms and grandmas). However, that Grammys performance was all about Lady Gaga. She's clearly playing another part, but we love this version of Mother Monster. That dress looked like the black version of Jessica Rabbit's dress. And her voice? Her voice was stunning.
Gina Rodriguez
Image: FayesVision/WENN.com
Rodriguez isn't just killing it on Jane the Virgin. She's so popular right now, they even talked her into presenting at the Grammys. We thought we caught her in the crowd, chillaxing next to Taylor Swift. We weren't positive, though, until she took the stage to speak. Is there anywhere you can't find her?
We're so proud of all the talented ladies who took part in the Grammys tonight.
More: Sign up for our newsletter and this stuff magically appears in your inbox