President Obama is a fan of daytime soaps: His 4 favorite story lines
Feb 3, 2015 at 10:59 p.m. ET
It started out an ordinary day. I was sitting at my desk, eating a chicken wrap and drinking some water from my red solo cup when, all of a sudden, an e-mail notification popped up regarding the one and only President Barack Obama.
Now, when I've read entertainment stories about the president in the past, they've usually been a hoot! Remember when he high-fived Santa and busted out the Marcia Brady dance moves?
But this story came as a bit of a surprise. The Soaps editor, Christine Fix, was alerting me that the leader of the free world had just followed the Soaps.com Team page. "By golly, what could this mean?" I wondered. Is the president of the United States watching daytime soaps when he's not coming up with comprehensive budget plans?
Pin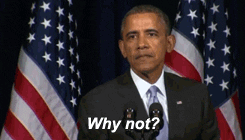 Well, such a follow could mean nothing else, it must be true! President Barack Obama is a big-time soaps fan! Which lead Christine Fix and I to our next question: Which shows or characters does he prefer to watch? While sipping on Twinings Black Currant Tea, Fix racked her brain and realized, she knew which storylines President Obama was into it. So, thanks to Fix, here's a comprehensive list of our very own! Please allow me to introduce...
Barack and Michelle Obama's favorite soaps story lines
By Christine Fix
1. Days of our Lives — Stefano DiMera power struggle
Each and every day, Barack Obama is joined by Michelle in the Oval Office. While sipping on mineral water and martinis, they pay keen attention to their favorite villain, Stefano DiMera, on Days, as he helps his youngest son, Chad, learn how to become a proper DiMera. They yell at the television, "Force him to at least read Villains For Dummies!" They wonder the way we do if Stefano finally has reason to be nervous that John Black is a cop with the Salem PD and then they count down the days until Stefano makes John his pawn once again.
More: Barack Obama's "Uptown Funk" lip-dub is so good, even Mark Ronson likes it (VIDEO)
2. The Bold and the Beautiful — the Hope/Liam/Steffy love triangle
Michelle enjoys Brooke's return on The Bold and the Beautiful and wonders whose bed she'll wind up in this month. Will Deacon Sharpe get the luxury of her company or will she make good on her promise to Caroline that she can have Ridge back "just like that" with a snap of her fingers? Michelle tries to determine whether or not she's glad the Hope/Liam/Steffy triangle is over. Should she be team Lope or team Steam? Oh, heck, she just wants Hope to pick a man already. Maybe she'll write Brad Bell a nasty e-mail about his overuse of love triangles on the show. In fact... an e-mail is being sent to him as we speak.
 3. General Hospital — "Fluke" and Heather Webber's return
The president and the first lady stay glued to the Oval Office TV. The Secret Service walks in to find their faces screwed up in disbelief that there's yet another "Fluke" on General Hosptial. Just like the other fans, they've lost track of the many "Fluke"s flying around Port Charles and want the story line to end yesterday. They discuss whether or not they should remove GH from their daily viewing list, until they notice that Heather Webber has showed up again at Shadybrook with a vendetta against Franco. They yell, "Nooooo!" in unison, as Heather jabbs the syringe full of LSD into Franco's neck and the Secret Service stands guard.
MORE: Get the hottest Soaps news, interviews and recaps on Soaps.com
4. The Young and the Restless — Victor Newman's soap swag
Maybe, just maybe, Obama fancies The Young and the Restless' Victor Newman's style and catchphrase, "You got that?" the most. Maybe he secretly wants to use it in one of his presidential addresses. Can you imagine that? Does he even know that some soap fans curse him from time to time when he addresses the masses and cuts into their soap viewing? Does he curse himself when Y&R is preempted thanks to his address? Does he have to stop by soaps.com in order to get the scoop on what Victor will be up to on the next episode? Is he so fixated on Y&R that he and the Mrs. act out the love scenes behind closed doors? Hey, it could happen.
More: Barack and Michelle Obama's love story is being made into a movie
Either way, don't worry, President Obama. We've seen you've got swagger of your own.
Pin
GIF credit: Giphy.com
Moral of the story? President Barack Obama follows Soap Opera Fan, so you should, too!