For a man in the midst of a bitter divorce, Jeremy Renner didn't seem too preoccupied with being sensitive — much less appropriate — at the Golden Globes.
The Avengers star took the stage alongside Jennifer Lopez tonight to present the award for Best Actor in a Mini-Series or Motion Picture. After announcing the nominees, Renner asked Lopez if she would like to open the envelope to reveal the winner.
More: Joanne Froggatt speaks up for rape victims everywhere at the Golden Globes
Polite enough, right? Except, wrong.
As Lopez graciously took the envelope, saying she did have the nails to open it, Renner leered at J.Lo's cleavage, quipping, "You've got the Globes, too." Eww.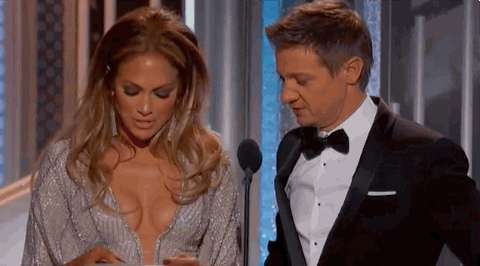 Image: Giphy
More: Why focusing on Amal Alamuddin Clooney's gloves at the Golden Globes is upsetting
Lopez played it off well enough, but the Twitterverse wasn't going to let Renner's perv status slide that easily. Although some applauded the actor (you know who you are), many took Renner to task for the childish joke.
https://twitter.com/iSmashFizzle/status/554449260209795072
Somewhere in the US is a fifth grader accusing Jeremy Renner of stealing his JLo "globes" joke

— V Magazine (@vmagazine) January 12, 2015
Seth McFarlane is writing Jeremy Renner's material. #GoldenGlobes

— (((Rachel Sklar))) ❄️ (@rachelsklar) January 12, 2015
Jeremy Renner rushes back to his table. "You guys hear that? That globes joke I made? Not too bad, right? Guys?" No one makes eye contact.

— Anne T. Donahue (@annetdonahue) January 12, 2015

Perhaps the off-color comment seemed particularly skeevy in contrast to the empowering speeches made by enlightened celebs like Joanne Froggatt, George Clooney, Jeffrey Tambor and more.
It certainly resonated as tasteless in light of the fact that Renner's wife of only 10 months, Sonni Pacheco, recently filed for divorce on the basis of fraud.
More: Jeremy Renner's new-ish marriage just turned into an ugly divorce
The divorce has taken an especially acrimonious turn with regards to the couple's child, Ava. While Pacheco asked for sole physical custody of their daughter, Renner claims he is afraid she may flee with the little girl to Canada at any minute.
He was so convinced of the possibility, in fact, that he apparently hijacked her passport and other legal documents needed for international travel.
In short, it seems safe to say that the last thing Renner should be concerning himself with right now is Lopez's, ahem, globes.