George Clooney and Amal Alamuddin Clooney were hands down the couple of the night at the 2015 Golden Globes, and the Lifetime Achievement Award winner's pride in his new bride was palpable.
George and Amal walked the red carpet together for the first time at the event, and while Amal was incredibly poised and gorgeous as always, we saw a different side of George. He was, of course, still as handsome, gregarious and debonair as ever, but he was also glowing, soft and sweetly doting on his wife. Here are four times it hit us the hardest that these crazy kids might just make it after all.
More: Why focusing on Amal Alamuddin Clooney's gloves at the Golden Globes is upsetting
1. George wore his wedding tux
Important: #GeorgeClooney says he's wearing his wedding tux. #importanttome #goldenglobes pic.twitter.com/8gDmapGpOl

— Sandra Gonzalez (@TheSandraG) January 12, 2015

No, really, he did. He must own, like, a dozen tuxedos, and he wore that one. Adorable!
2. He introduced her to everyone
Producers? Check. Directors? Check. Former co-stars? Check. Lighting guy? Check. Parking attendant? Check. George is a man in love, and he wants everyone to know it — and to know why. The best way to accomplish that is to show Amal off to the world.
More: 2015 Golden Globe Awards: The complete list of winners
3. He made sure no one stepped on her dress
George told E! News that his most important job of the night was to make sure no one stepped on the train of Amal's dress. Many husbands would be doing the accidental stepping-on themselves. George Clooney, most gallant husband in the history of marriage. And he probably loved her gloves, too.
More: Joanne Froggatt speaks out for rape victims everywhere at the Golden Globes
4. His acceptance speech made us melt
George's tribute to his new bride during his acceptance speech for his lifetime achievement award just ruined wedding toasts for all time, because no one could come up with anything better than this.

"It's humbling when you find someone to love," he said. "Especially when you've been waiting your whole life… and when your life is 53 years. I couldn't be prouder to be your husband."
Dying.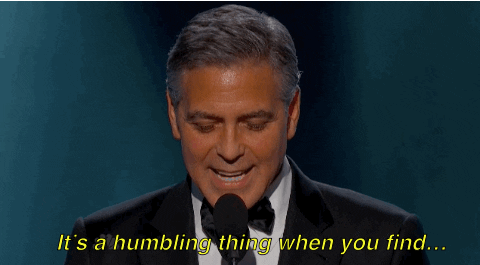 Tell us: What was your favorite George and Amal moment at the 2015 Golden Globes?