Brad Pitt just turned 51 and, yep, we're still swooning over this foxy star. If life were a series of Rorschach tests, every slide would look a whole lot like Brad Pitt in bed to us. They say a dirty mind is a terrible thing to waste, and these thoughts prove Pitt ensures ours are exceeding their potential.
1. Sweet. Jesus.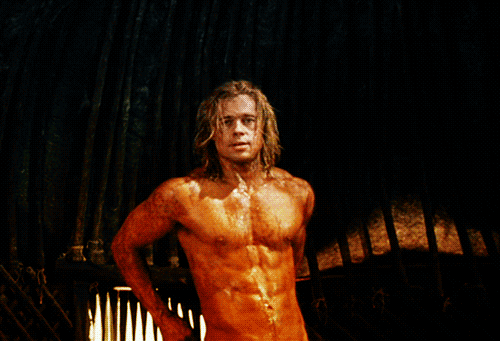 Image: Giphy.com
2. Seriously, though, can someone get a Brad Pitt blow-up doll in production, STAT?
3. If that is what being a figment of Ed Norton's Fight Club imagination looks like, sign us up for the sequel, please.
4. I wonder if Brad Pitt is as good in bed as he looks like he'd be?
5. Thank you, Troy. You just filled every female's spank bank for life.
6. What's that, Brad Pitt in Thelma & Louise? You say, "Everybody down on the floor"? You don't have to ask me twice.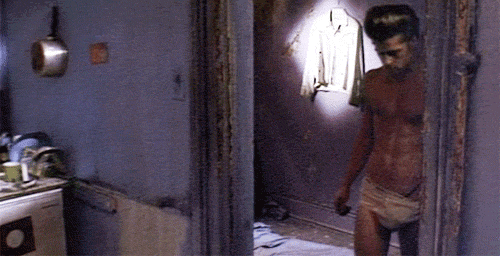 Image: Giphy.com
7. What I wouldn't give to be Johnny Suede's hand right now.
8. I'd do naughty things to you, Cool World cartoon Pitt. That sounded strange, even for me.
9. Um, yum.
10. Am I turned on by both Brad Pitt and Angelina Jolie right now?
11. Why, yes… I would like to meet Joe Black. If by Joe Black, you mean Brad Pitt. And, if by Brad Pitt, you mean Brad Pitt's hulking naked body in bed.
12. If I ever have to request a last meal, can it just be a special viewing of Brad Pitt's shirtless scenes in Snatch? That would be comforting.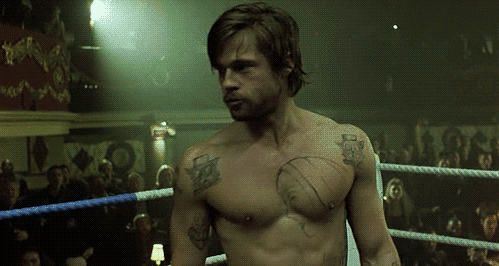 Image: Giphy.com
13. Should Brad Pitt ever go all Interview with the Vampire in real life, I'd stand in line just to have him bite my neck.
14. Tristan effin' Ludlow. Tristan effin' Ludlow, y'all.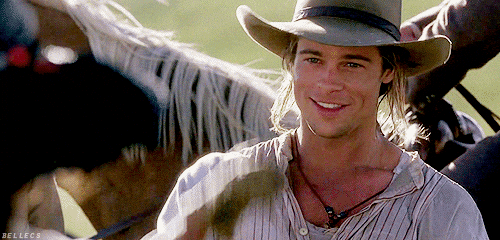 Image: Giphy.com
15. I'd like to run my fingers through Brad Pitt's long Legends of the Fall hair. From underneath him.
16. How come Gwyneth Paltrow got to bed Brad Pitt and I didn't? Some girls have all the luck.
17. But, like, I want.
18. I want to spend Seven Years in Ti-bed with him. Haha, Ti-bed. *snicker*
19. Who needs porn? Brad Pitt as Tyler Durden in Fight Club revs my engine any day.
20. I wish Brad Pitt would make babies with me.
21. Brad Pitt = the only man in the world who can rock a pornstache and still turn me on.
22. I'd totally bone Brad Pitt's dorky character in Burn After Reading. I don't even care.
Image: Giphy.com
23. In the movie of my life, can we Benjamin Button it so that Brad Pitt is always at his sexual prime and he's always attracted to me? That would be super.
24. No, really, I need.
25. Man, I loved Brad Pitt in Moneyball. Hmm, Moneyballs. Balls. Aaand now Brad Pitt is naked in my head. Something is wrong with me.
26. F'ing honeybear bong, you lucky bastard!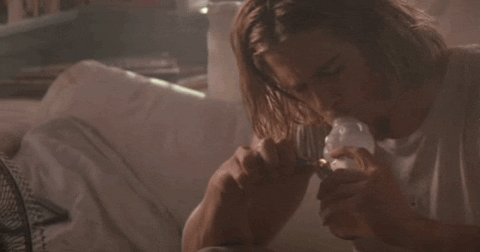 Image: Giphy.com
27. C'mon, just cut to Brad Pitt's naked body already!
28. Even Brad Pitt's scruffy beard makes me want to hump him.
29. O.M.G. Look at his… pecs.
30. How is that even possible? Really, I want to know.
31. If there was an emoji for Brad Pitt, it would be a lady boner.
32. How many rooms in their real-life house mansion castle have Brad Pitt and Angelina Jolie had sex in, do you think?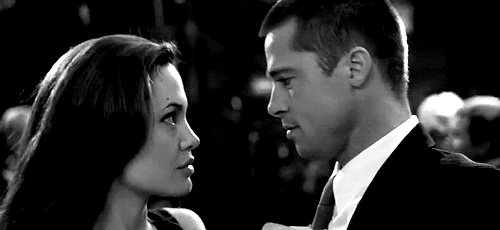 Image: Giphy.com
33. I wouldn't blame Angelina Jolie if all she ever did was eat, sleep and rub up against Brad Pitt.
34. How suspicious would it seem if I wanted to watch a Brad Pitt movie right before sex — you know, not with Brad Pitt?
35. Brad Pitt should be in Fifty Shades of Grey. I bet he could S&M Jamie Dornan under the table. He is married to Angelina Jolie, after all, and she's definitely into some kinky shit.
36. I'd die to be a fly on the wall and catch a glimpse of Pitt's sex face.
37. Are those? Is that his… ?!
38. Breathe. Just breathe. Breeeeaaaaatttthhhhheeee.
39. I don't think my body is ready for the physical ramifications that, er, come from watching a Brad Pitt sex scene.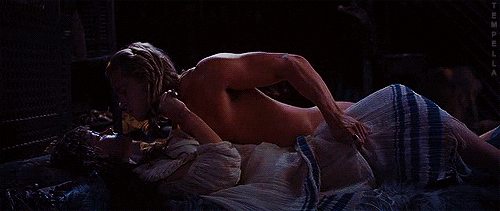 Image: Giphy.com
40. Damn. He really is like a fine wine — he just gets better with time.
41. Do you think he manscapes? Surely he does. I mean, check the beard, right? That would make for a gnarly man bush.
42. A River Runs Through It? I'd like him to run through me. Too far? OK, too far. Point taken.
43. If I admit I can't wait to watch By the Sea and confess I'll only be doing so for the "crazy sex scenes" Brangelina is supposed to have, does that make me sound like a creeper?
44. OMFG. OMFG. OMFG. OMFG. OMFG.
45. Let me get this right… I'm supposed to sit through a movie with Brad Pitt, George Clooney and Matt Damon and not think dirty thoughts? Pssht.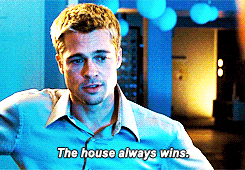 Image: Giphy.com
46. Oh, yeah. Me likey. Me likey long time.
47. Brad Pitt and Angelina Jolie used to do it in a secret grotto behind a waterfall? Am I boring? Should I be having sex like that? Where the eff does one find a secret sexy waterfall grotto?
48. If Brad Pitt does star in a movie called Vlad the Impaler, the only way to do it right is to make it a campy NC-17 sex fest. Ahem, "Impale-her." Amiright?
49. I know Fury is serious stuff and all, but I still want to bone Brad Pitt.
50. God, this man is a sexy beast.
51. Did I just dig up an old Pringles commercial starring Brad Pitt? "Once you pop!" has never sounded naughtier.
Image: GIFSoup.com
More on Brad Pitt
Brad Pitt wants Rihanna to get a job and stop being so lazy (VIDEO)
15 Best Brad Pitt expressions from the Zach Galifianakis interview (PHOTOS)
Shia LaBeouf might have plans to make Brad Pitt his husband