The Goldbergs is giving Charlie Sheen the chance to step back into a role he hasn't played in a long time: the bad boy.
More: Charlie Sheen's ex-fiancée distraught after breakup, rushed to hospital
Wait. Actually, Sheen has been playing a real bad boy all of his life.
But when it comes to his on-screen personas, there was one from the '80s that really put him on the map. Thanks to The Goldbergs, fans will get to see Sheen pay homage to the "Boy in the Police Station" character he played in the classic 1986 film, Ferris Bueller's Day Off.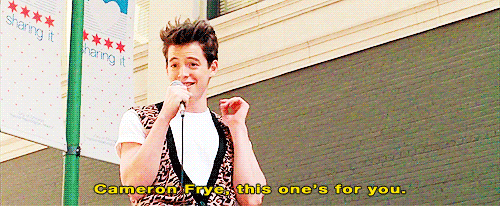 Image: Giphy.com
People has revealed that Sheen will play his iconic bad boy role in an episode of The Goldbergs airing in 2015. The episode story line follows Barry (Troy Gentile) when he pulls a Bueller and fakes sickness to get out of school. But playing hooky isn't Barry's only goal. After seeing the famous Matthew Broderick flick, he wants to make history with his own Bueller-like day off.
More: Jon Cryer airs his dirty laundry with Charlie Sheen
Unlike his hero, Barry's day doesn't go nearly as well as he'd hoped. The disastrous day only gets worse when Pops (George Segal) and Adam (Sean Giambrone) try to help him out.
Much like the film, where it was Bueller's sister who met the "Boy in the Police Station," Barry's sister Erica (Hayley Orrantia) will be the one to run into Sheen after going to the station to rat on her own brother.
More: Weeks before his fourth wedding, Charlie Sheen and fiancée call it quits
You can watch Sheen's full scene from Ferris Bueller's Day Off in its entirety below.
Be sure to check out Sheen in his classic role on The Goldbergswhen it returns with new episodes on ABC, Wednesdays at 8:30/7:30c in early 2015.