Now that we know The Walking Dead spin-off will be set in Los Angeles, there are a few things we need to see on the series.
TV Line confirmed the spin-off's location, which has us speculating about all the places in LA we want to see walkers.
More: The Walking Dead spin-off — everything you need to know (so far)
Sunset Boulevard
Sunset Boulevard is a sucky drive almost any day of the week, especially during rush hour. Just imagine what it would look like if it were overrun with zombies stumbling down the middle of the road. Talk about a traffic jam.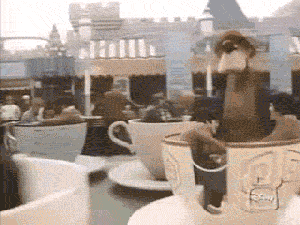 Image: Giphy.com
Disneyland
Zombies running through the "happiest place on earth" would be all kinds of awesome, as would seeing them on some of the rides. Just picture it: a walker going after some poor dude in line for the Teacups and ending up on the ride itself.
The La Brea Tar Pits
The Walking Dead makeup department could have a field day with this location. Zombies chase tourists at the tar pits and get stuck themselves. As the tar tears off their flesh, they just keep on attacking.
Muscle Beach
Hungry zombies are always looking for a good meal and they'd find lots of flesh to eat at Muscle Beach. The walkers won't be able to help themselves when they see all the scantily clad men and women working out on the beach. It'll be like a buffet with bikinis.
More: The Walking Dead's Emily Kinney sings about dating a rock star (VIDEO)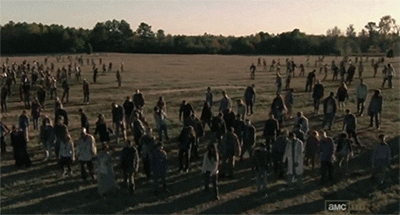 Image: Giphy.com
The Chinese Theatre
If walkers invade Hollywood, we definitely want to see some at the Chinese Theatre. How about a walker tearing off a tourist's hand and the appendage falling into one of the movie star's handprints in front of the theater? People are always putting their hands in there — this one would just be permanent.
Universal CityWalk
CityWalk is a big destination for tourists, which would give the zombies plenty of dining options to enjoy. All it would take is one or two zombies to turn it from CityWalk to CityWalker (see what we did there?).
The Hollywood sign
The Hollywood sign isn't exactly an easy place to get to, but we'd still expect the show to find a way to put zombies up there. Maybe a tourist group goes up there to look at the sign and the bus driver will turn out to be infected. However it happens, we want — no, make that need — to see some walkers hanging off the sign.
The Hollywood Wax Museum
Since walkers are guided by their noses, it's doubtful that any of them would fall for the wax figures at the museum and try to eat them. But what could happen is some tourists spotting a zombie or two, think they're just part of the "act" and get chomped on themselves.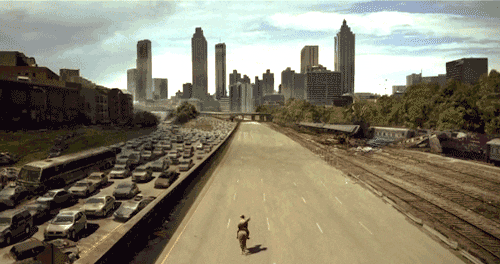 Image: Giphy.com
An empty 405 freeway
This would be a great shout-out to the original series pilot. We'd love to see a shot of one of the new characters walking down a deserted 405 freeway. They wouldn't necessarily have to be riding a horse like Rick did in the pilot, but that would be a nice touch.
More: The Walking Dead — seven most extreme reactions to what happened to Beth
What are you hoping to see now that The Walking Dead spin-off is heading to Los Angeles?