Yes, Virginia, there is a Santa Claus — and her name is J.K. Rowling.
More: 15 GIFs that will make you want to enroll in Poland's real-life Hogwarts
The Potter author just made Christmas come early with an announcement that's better than a year's supply of butterbeer. According to Time, Rowling will be dropping a new Harry Potter short story on each of the 12 days leading up to Christmas. We'll just let that sink in for a minute. New Harry Potter Stories. Every day. For 12 days.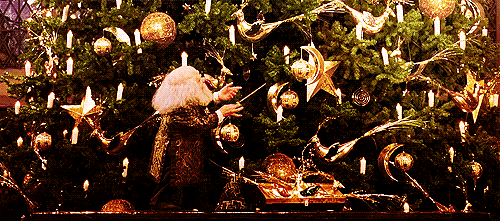 Image: Giphy.com
Rowling announced this, the greatest of all Christmas gifts, in a newsletter sent to members of her Pottermore website.
We're feeling extra generous this year, so we're bringing you early gifts this Christmas. Starting Friday, December 12, we'll be releasing a festive surprise for you every day at 1pm GMT (8am EST).

With wonderful writing by J.K. Rowling in Moments from Half-Blood Prince, shiny gold Galleons and even a new potion or two, make sure you don't miss out – just visit pottermore.com and answer our rhyming riddles to unwrap a #PottermoreChristmas surprise every day.
More: Daniel Radcliffe has a simple plan for growing up in Hollywood
Sources are reporting that one of the stories will focus on Harry's nemesis, Draco Malfoy, who is probably a huge Scrooge who gets coal in his stocking.
The stories will be published daily on Pottermore, which requires an elaborate registration process designed to deter Internet creepers from the kid-centered site, so unless you want to deal with the pain of knowing there's a fresh Harry Potter story and you can't read it, sign up well in advance.
More: 5 Things we hope J.K. Rowling tells us about Umbridge
Any predictions about what Rowling will reveal with her new series of stories? Will Draco receive some holiday-themed comeuppance? Will some Weasleys get into some magical mischief? Will Rowling finally remedy the travesty that was Harry and Hermione not ending up together (oh please oh please!)? What do you hope to read? Tell us in the comments below.