Despite the fact that it's been more than 10 years since Aaliyah's death, the self-proclaimed "street but sweet" singer, dancer and actress's legacy continues. Now, Lifetime wants to tell her story. How much do you know about the Princess of R&B?
Stars aligned for Aaliyah from the moment she was born
Not only does her birth at the top of the year on Jan. 16, 1979, seem like an indicator of all her time at the top of the charts, it also made her a Capricorn. Two of the most important characteristics of a Capricorn? Ambition and discipline. Aaliyah clearly had those in spades and used them to her advantage.

Her name means "exalted one"
Aaliyah is derived from the Arabic name Aliya. Its full meaning is "highest, most exalted one; the best." Her parents knew exactly what their baby was made of.
One of her first real gigs was with Gladys Knight
When she was just 10 years old, Aaliyah performed on Star Search and even sang alongside Gladys Knight. You'd think that, at such a young age, she would have been terrified. She nailed it.
www.youtube.com/embed/D1ijI5G5q4M?feature=player_detailpage
How'd she land that duet? Oh, you know, they're related
Aaliyah's uncle, an entertainment lawyer, was married to Gladys Knight. Talk about the ultimate hook-up.
R. Kelly was her mentor
Say what you want about R. Kelly's private life, but he knows how to write and produce. He took Aaliyah under his wing when she first came onto the scene and even wrote some of her best songs. Only a true princess could pull that kind of star power.
Aaliyah's soundtrack song broke records
When our girl made her acting debut on Romeo Must Die, she also contributed to the soundtrack. Aaliyah's song "Try Again" off that soundtrack rocketed to the top of the Billboard 100 based solely on radio airplay and no other factors, like sales. She was the very first artist to ever have that happen.
She knew the importance of being a role model
According to one biography, Aaliyah continued to study and work hard at school despite traveling for her career. She knew it was important to get a decent education, and not just for herself. She also wanted to make sure fans understood that, even if they wanted to pursue an entertainment career, they still needed to have an education to fall back on.
She believed in never giving up
Aaliyah often talked about how hard she worked to become so famous and loved. That determined nature of a Capricorn spilled out not only in her work ethic but in her lyrics, too. Sure, "Try Again" was mostly about encouraging a guy to keep trying for her. But how many of us sang along as if it were our own personal theme song to help us get through whatever we were trying to accomplish?
www.youtube.com/embed/aRcAvsZgjXA?feature=player_detailpage
Timbaland and Missy Elliott owe thanks to Aaliyah
For her second album, Aaliyah chose to work with Timbaland and Missy Elliott. Those names may be huge now, but at the time, they were just starting out. Aaliyah's massive success helped push them into the limelight, as well.
She played royalty on the big screen
Remember Queen of the Damned? Aaliyah played an ancient vampire queen, Akasha, loosely based on Anne Rice's The Vampire Chronicles. She may have been sexy, but she was also crazy as hell. The movie was released after Aaliyah's death.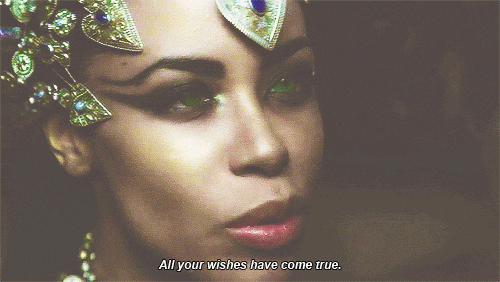 She only released three albums before her death
Just how much of an impact did Aaliyah have on our lives? Her self-titled third album was released just weeks before her life came to a tragic end in a plane crash. Many musicians put out far more records and leave near-vanishing impressions on our lives. Aaliyah, however, only needed three albums to make her mark on the music industry.
Want to know more about the sexy and talented R&B Princess? Lifetime's biopic Aaliyah: Princess of R&B debuts on Saturday, Nov. 15, at 8/7c.
This post was sponsored by Lifetime's Aaliyah, The Princess of R&B.