Today, it was announced (well, okay, pretty much announced, although rumors still abound) that Benedict Cumberbatch will play Dr. Strange in Marvel's upcoming film production, and fans have gone wild.
The British incarnation of Elle Magazine released two teaser videos of Cumberbatch's upcoming cover shoot today. He was the featured guest on Britain's late night sensation The Graham Norton Show Friday. Oh, and his movie, Imitation Game, hits American theaters November 21st and they might as well add "Oscar Winner" to the beginning of Cumberbatch's name.
Do you get the feeling this guy is sort of omnipresent?
So what's his deal? Where did he come from? Why are women fawning over him like horny teens? There are hundreds, thousands, of women who count themselves members of the CumberCollective. Then, there are women who just don't get it. We're here to change your mind. What's there to love about the guy with the funny name? Let me tell you.
1. The eyes
Photo Credit: Getty Images
He'd make a great vampire. Let's face it: those blue-green-gold eyes can be kind of creepy, depending on the lighting. But then, his eyes can be super sexy, too. Other-wordly even, like staring into the sea. Plus, they change color depending on what he wears. We wish we had an accessory like that.
2. The cheekbones
Photo credit: Tristan Fewings / Getty Images
In the words of Sherlock's Irene Adler, "I could cut myself slapping that face. Would you like me to try?" Yes, yes, we would. His face looks like it's chiseled out of marble.
3. The mouth
Photo Credit: Getty Images
He blames his full lower lip on playing the trumpet as a child. On top, he's got what we call a "cupid's bow" that's so prominent, you sometimes think he might be wearing lipstick. He's isn't. I don't think, although with a mouth and cheekbones like his, he would make a great drag queen.
4. The voice
Someone once said his voice was like a "jaguar in a cello." We couldn't agree more. Although he alters his voice slightly for each and every role, it's impossible to miss, even as the fire-breathing dragon Smaug in The Hobbit trilogy. He's got the kind of voice you feel more than hear, like a gentle purr. Plus, the super posh British accent makes us suspect he's dirty in bed. (Those good boys always are.)
5. The smile
Photo credit: Tim P. Whitby / Getty Images
Cumberbatch's smile is kind of crooked and geeky, but when we see it, we just kind of … melt. His face, complete with enormous smile wrinkles, is the picture of joy when he's happy. When he smiles, the whole world smiles with him.
6. The hair
Photo Credit: Getty Images
He owes his hair to his father, he says, and for that, Daddy Cumberbatch, we thank you. No matter the color, that hair is thick, silky and begging to be pulled. Apparently, that's the way to his … er … heart: "Pull the hair on my head the wrong way, and I would be on my knees begging for mercy." We'll remember that.
7. The hands
Photo credit: Tristan Fewings / Getty Images
In Sherlock, he plays violin, and he looks like he should. He's got huge hands with long fingers, always perfectly manicured. There are entire websites dedicated to Cumberbatch hand porn, and of course, what those hands might do in the bedroom.
8. The body
He's not as tall as he looks. Standing at six feet even, people often incorrectly assume he's the size of a professional basketball player. Not so. But as Sherlock says, he takes "the precaution of a good coat and a short friend." He looks like he's made of rock, especially those lovely pecs and great butt.
9. The clothes
Photo credit: Adriana M. Barraza / WENN
Thank you, Spencer Hart, for choosing to dress Cumberbatch for just about every posh event he ever attends. HIs suits are always tailored perfectly, slim-fit to accommodate his lithe, British bod. He's not afraid of velvet, either, as evidenced at The Hobbit premiere. Mostly, he sticks with basic black. If a man was ever born to wear a suit, it's Benedict Cumberbatch.
10. The love for his fans
Photo credit: Tristan Fewings / Getty Images
At every event or movie premiere, Cumberbatch is the last to leave the red carpet. He's late to everything because he makes time to stop and take photos with his fans. He talks to them, listens to them. He's aware we're all psychopaths, but he loves us anyway. Always polite and thankful; what a guy.
11. The positive attitude
Photo credit: WENN
He was almost killed in a carjacking in South Africa but lived through having a gun held to the back of his head. He didn't turn this terrible event into a bad memory; instead, he used the experience as a reminder to live life to the fullest, every second. An interviewer for GQ said, "I feel, compared with Cumberbatch, like someone going through existence with the contrast dial turned down. To him, it seems, everything is neon bright."
12. The sense of humor
He laughs at himself. Often. During his recent appearance on the Graham Norton Show, he listened to a documentary in which he says "penguin" incorrectly a half dozen times, and he laughed and laughed. Plus, let's not forget his epic Ice Bucket Challenge, in which he was doused not once but five times (once while naked in the shower).
13. The acting chops
Although nominated before, he won his first Emmy this year for his role as Sherlock. In November, he plays World War II British hero Alan Turing in Imitation Game, and Oscar buzz is deafening. For every role, Cumberbatch alters his appearance, voice and mannerisms. He's brilliant to watch, and not just because he's pretty.
14. The gay wedding
Last year, he officiated a wedding between two of his male friends in Ibizia. Nuff said.
15. The brain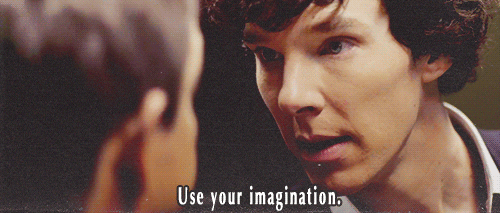 He attended the prestigious Harrow School from the age of eight. He took a year off from school to teach English at a Tibetan monastery. After the University of Manchester, he earned his Master's in Classical Acting from the London Academy of Music and Dramatic Art. Oh, and he uses lots of big words in interviews.
16. The humbleness
Photo credit: LittleFlower96 / Tumblr
He realizes he has a huge fan base, all of whom think he's hotter than a summer day in hell. HIs response? He told the British Sun, "I enjoy being considered handsome, even though I think it's hysterical." He compares himself most often to either an otter or Sid from the Ice Age. He has no clue just how hot he is, which makes him even hotter.
17. The photobomb
Photo credit: Kevork Djansezian / Getty Images
He photobombed U2 at the Oscars and got some air! (Maybe he should be a basketball player.) But honestly, who does that? Cumberbatch was just so excited to be there and be alive, I guess he thought, "Why not? Live for now." His leap has become one of the most famous photobombs in photobomb history.
18. The love for Mum and Dad
Photo credit: Max Mumby / Indigo / Getty Images
His parents are both actors, too, and they play his fictional parents on BBC's Sherlock. He talks about them often in award speeches, and he even took his mum on a play date to the Chelsea Flower Show. Gotta love a guy who loves his mother.
19. The bromances
Photo credit: Getty Images
Where do we start? Michael Fassbender. Martin Freeman. Zach Quinto. Tom Hiddleston. Cumberbatch and Fassy had a dance-off at the Golden Globes, following a manly hug. He pinched Freeman's butt on the Hobbit red carpet. He visits Zach in New York (and let's not forget the semi-drunk picture of them having a laugh and a hug). Finally, Cumberbatch and Hiddleston are like the internet's favorite couple. A man with lots of friends is a man to admire.
20. The Sherlock kiss
Social media exploded during the premiere of Sherlock, season 3, when Sherlock swung through a window, ruffled his hair, adjusted his sexy coat and laid a big old kiss on the waiting lips of Molly Hooper. Mention this moment in TV history to any member of the CumberCollective and prepare for an emotional meltdown.
21. The babies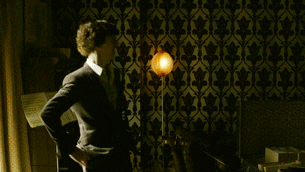 When asked who he would most like to meet, alive or dead, he said, "The mother of my children and I'd ask them to take a deep breath and if they fancied a drink." (And the internet explodes!)
22. The nerd-ness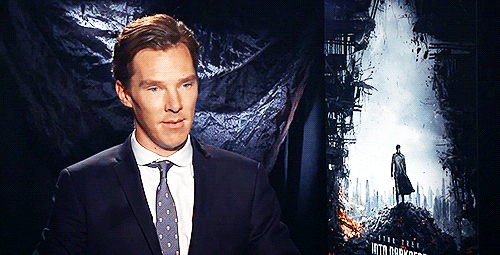 As we've proven, Cumberbatch is a lot of things: a hottie, an Oscar contender and a nice guy. Finally, though, we have to admit: he's a huge nerd. When he's not dressed up for an event or TV show, he looks like a frat boy. He loves making weird faces at the camera. He even did a hilarious Beyonce impression this past weekend. He has no ego. He will not be embarrassed. He is a geek, and what's better than a super good-looking, intelligent guy who's not afraid to make a fool of himself?
More reading
Watch Benedict Cumberbatch get upstaged by a sassy, young interviewer (VIDEO)
Benedict Cumberbatch attempts the Beyoncé walk (VIDEO)
VIDEO: Benedict Cumberbatch owns R. Kelly's "Genius" lyrics