Oh, Britney — it's been a wild ride, but you made it, girl!
It's been 10 years since Spears grabbed those clippers and shaved her own head in public, but since then, she's basically turned herself into the greatest comeback story of all time. She's has a successful, long-running residency in Vegas, she's got new music out, she's in amazing shape, she always keeps us entertained with her social media posts — and she just all-around seems like she's in a really good place.
She's definitely had her share of ups and downs, and we're so glad to see her come out on top. Take a minute to remember some of her wildest moments over the years with us.
More: NSYNC Is Reuniting, I Repeat, NSYNC Is Reuniting
1. The 2016 BBMAs
Um, yeah. When you have a nearly eight-minute-long mega-mix filled with songs that everyone knows by heart, it's clear you're the undisputed princess of pop.
But what everyone will remember from this performance is Spears riding a gargantuan guitar like it's a bucking bronco. Priceless.
2. Making out with Madonna at the 2003 MTV VMAs
Spears was known early on in her career for her innocent demeanor and fresh-faced look, so it came as a major shock when we found out that she's not that innocent at the MTV Video Music Awards when she laid one on Madonna. Don't miss the look on Justin Timberlake's face. He and Spears were hot and heavy at the time.
3. The 2000 VMAs
In 2000, Spears was just 18 years old and already the consummate performer. Her dancing as she sang "Oops!… I Did It Again" in a nude, barely-there outfit is permanently burned into our minds. And we ain't mad at it.
4. The 2001 VMAs
Her body. Her dancing. Her outfit. Her hair. Her… snake? Another unforgettable Spears moment, brought to us by MTV.
5. Cheating scandal with Wade Robson
Timberlake and Spears were America's sweethearts and everybody's favorite couple back in the early '00s, but they suddenly split and rumors flew that she had hooked up with super-hot choreographer Wade Robson. Did she or didn't she? The truth of what really went down may never be known, but whatever happened inspired the most epic cheating anthem of 2002 and this awesome video featuring a Britney Spears look-alike.
6. The Canadian tuxedo
Speaking of JT, can we forgive Spears for the 2001 full-denim outfits that inspired this tribute by Katy Perry?
7. Her very public meltdown in 2007
We don't know if it was the scrutiny of being in the spotlight for so long, substance abuse, being married to Kevin Federline or a combination of all of the above, but Spears derailed for a while. It was painful to watch her deteriorate as she got violent in public, shaved her head and ultimately ended up under a strict conservatorship. These may not have been her finest moments, but we're so proud of Spears for rebounding so beautifully from such a hard time. It gives us hope for the struggling Amanda Bynes and gave birth to the phrase "if Britney Spears can get through 2007, I can get through today."
Ain't that the truth.
Before you go, check out our slideshow below.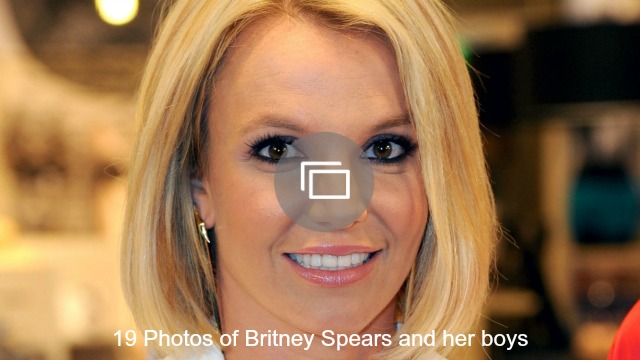 Originally published October 2014. Updated February 2017.