5. She wasn't always the only sister
While Moretz routinely talks about her four brothers, she rarely lets it slip that she once had another sibling. However, in a feature for Interview magazine, she told Drew Barrymore, "I used to have a sister, but I never got to meet her, because she died after two days, I think. So if I got a tattoo, it would probably be something to do with my sister."
6. Her older brother gave up his career for hers
Some people can't get their big brothers to be seen in public with them, much less devote their entire life to helping their little sister out. Moretz's older brother Trevor was among the first to recognize his sister's talent. "Even as a tiny child, she had something," he told W magazine. He walked away from his own career ambitions and now serves as her producer, mentor, guru and more.
7. She named her dogs after her first big film
Chloë Grace Moretz was only 6 years old when she landed the role of Chelsea Lutz in The Amityville Horror, but the movie left an indelible mark on the young actor. In its honor, she named her dog Fuller after producer Bradley Fuller, and she named her dog Missy after the nickname of her character in the movie.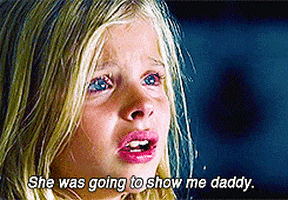 Image: Giphy
8. She still got grounded
Churning out blockbuster hits may give you a leg up in Hollywood, but it gets you no special treatment in the Moretz family. "My mom has always said that if I get a big head, she'll take me out of this business as quickly as I got into it," she has explained. Referring to herself as an "average, everyday girl," Moretz assured of her normalcy, "I have to go to bed at 9:30, and if I'm up late on the computer, I lose it for two months." Yikes!
More: Chloë Moretz fights back against death hoax, calls it "sick"
9. Hit-Girl behavior wouldn't fly in her household
When it comes to roles, Moretz goes for the shock factor — audiences let out a collective gasp in 2010 when she debuted the foul-mouthed vigilante killer Hit-Girl in the hit film Kick-Ass. But lest anyone get her character in the movie confused with her in real life, Moretz clarifies of the part, "I was raised to think cursing makes you look unintelligent. As Chloë, I can honestly say I've never uttered a syllable of a curse word, not even behind closed doors."
Image: Giphy