Who doesn't love Drake? The guy does it all: He dances (and is our No. 1 inspiration for new GIFs and memes), he acts (SNL, anyone?) and, yes, he can sing/rap/produce (if you don't think three Grammy wins is impressive, then…).
He's ambitious, too. When Drake was just 23, he set a goal to make $25 million by the time he was 25 by rapping. He did just that.
And let's not forget he has an incredibly dedicated fan base. Did you see that more than 600,000 people tuned in to watch Drake and a gamer play Fortnite on Twitch, breaking the record for most concurrent viewers on a single stream? His fans will watch him do literally anything.
Drake's chart-topping hits keep coming year after year — and we're impatiently waiting for his new upcoming project, Scary Hours, to drop — but even his revealing rhymes don't answer the question: Who's the guy behind those dark, smoldering eyes? Let's dig into what we do know.
More: Drake Threatened to Beat Up a Guy for All the Right Reasons During His Concert
1. He broke an American Music Awards record

In October 2016, Drake set the record for most AMA nominations. He raked in 13 noms, beating Michael Jackson's 11 nominations from 1984, and won four awards: Favorite Rap/Hip-Hop Album, Favorite Song (Soul/R&B Album), Favorite Song (Rap/Hip-Hop) and Favorite Rap/Hip-Hop Artist.
2. And he made history at the Billboard Music Awards
Sorry, Adele! Drake made BBMAs history by winning 13 awards, the most any artist has won at the show in a single night. You go, Drake.
Really, though, Views was a masterpiece.
3. Drake rose to fame as a Canadian TV star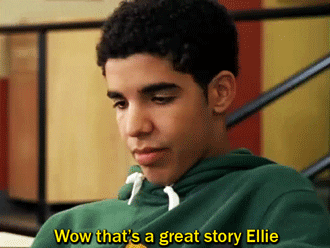 Drake joined the cast of Degrassi: The Next Generation in 2001, when he was only 15 years old. He played Jimmy Brooks, a basketball star who had to use a wheelchair after being shot.
4. His real name is Aubrey Graham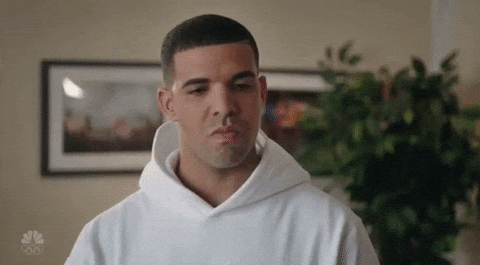 Drake is actually his middle name. And we get it — Aubrey Graham just isn't a great rapper name, TBH.
5. He's the biggest chart topper — for men
It's not just all talk and humble brags. As of August 2017, the indomitable Drake spent 51 consecutive weeks on the top 10 singles chart, setting a new record for male artists. The streak started in October 2015 with "Hotline Bling." Before Drake broke the mold, The Weeknd was close behind at 45 consecutive weeks in 2015.
6. He has a record-setting Hot 100 run
Drake became the first-ever artist to log eight straight years on the Hot 100 in May 2017. When "Best I Ever Had" debuted in 2009, it marked the beginning of his 431-consecutive-week run on the Billboard Hot 100. It wasn't until August 2017 that his record streak came to an end and he was absent from the Hot 100 for the first time ever.
7. He dated Rihanna (probably)
While many people remember the infamous fight between Chris Brown and Drake at a nightclub, not as many people remember the reason for the fight. "It's embarrassing, the amount of media coverage," Drake said, according to the New York Daily News. "Two rappers fighting over the woman. He's not even a rapper, but still, it's the last way you want your name out there. It distracts from the music. But he's made me the enemy, and that's the way it's gonna stay, I guess."
The relationship was rumored, but the fight and the aftermath made it seem like he was protecting his girlfriend. And reports of Drake and Rihanna's secret romance live on. Rihanna even kissed Drake in public after his very emotional ode to her at the 2016 MTV VMAs. Then they reportedly made it official. But in October 2017, Rihanna totally snubbed Drake and declined to attend his birthday party. Who knows with these two.
8. He freaking loves Harry Potter
You read that right — Drake is a die-hard Harry Potter fan. He loves the franchise so much, he's been searching the globe for four years for the first edition of Harry Potter and the Sorcerer's Stone. In November 2017, during an interview with Billboard, Drake said of the first-edition book they found on the market for $16,000, "I should get it. My birthday's coming up. Maybe I'll buy it for myself as a treat."
9. He's a good skater
As Drake hails from Canada, does this even come as a surprise? He's a triple threat for music, acting and (maybe) dancing, and now he can add ice-skating to his showbiz résumé. One of Drake's sources confirmed that he took Rihanna ice skating on a friendly type of date to help her work on her moves.
Next: He's got a weird fan base
A version of this article was originally published in June 2013.