Nail design: San Francisco 49ers manicure tutorial
Feb 2, 2013 at 8:00 a.m. ET
In honor of the 49ers, we created this nail art to wear when rooting on your team.
Nail design tutorial
Follow these easy steps to create the full nail design. At the end, add the number of your favorite player on your thumb for a personal touch (in this case, we chose #7 for Quarterback Colin Kaepernick).
Pin
1
Gather materials
OPI 'Color So Hot It Berns'
Sally Hansen 'White On'
Nicole by OPI 'The Next CEO'
Scotch tape
Small paint brush
Pin
Start with a base coat of red on the thumb and gold on the rest of your nails.
Pin
Paint some strips of tape with red and white polish and let dry.
Pin
4
Stick on the red strips
Cut the painted red tape into strips and stick them on the middle of your gold nails.
Pin
Cut thinner strips of the white painted tape and place over the middle of the red strips.
Pin
Trim excess tape.
Pin
7
Paint on player's number
Using the small paint brush, paint the number of your favorite player on your thumbs and finish with top coat.
Pin
More football fan-icures
Pin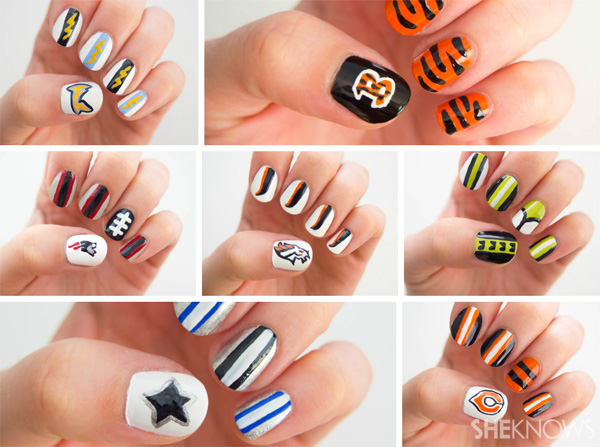 More nail designs
Rebecca Minkoff Fashion Week inspired nails
Nail art designs you can actually do
4 ways to sparkle up your nails