Nail design: San Diego Chargers manicure tutorial
Oct 23, 2013 at 7:30 a.m. ET
The best way to accessorize at the game is on your nails!
Pin


San Diego Chargers-themed nails
Supplies:
Small and medium paint brush
Essie's Bikini So Teeny
Essie's After School Boy Blazer
Sinful Colors' Pull Over
Orly's White Tips

Instructions:
Pin
Start with a white base coat.
Pin
Alternate navy and blue stripes on each of the nails, excluding the thumb.
Pin
Using the medium brush, paint yellow lightning bolts on each of the nails, vertically on top of the stripes. On the thumb, paint the rounded lightning bolt logo.
Pin
Pin
Using the small brush, paint a thin blue line around the rounded bolt. Let it dry and then paint a navy line around that. Let dry and finish with a top coat.
Check out our nail design photo gallery here >>
More football fani-cures
Pin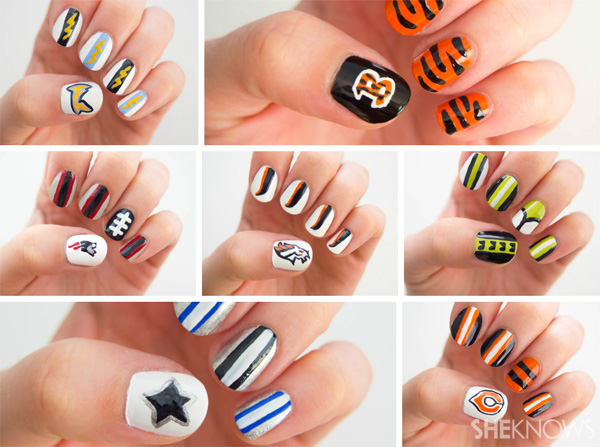 More nail art
Chunky glitter and furry nails inspired by Rachel Zoe
Prada-inspired tortoise shell print nails
Gilded gold leaf daubed nail art