Nail design: New England Patriots manicure tutorial
Oct 23, 2013 at 7:30 a.m. ET
Get your team pride on with some NFL nail art.



New England Patriots-themed nails

Supplies:
SquareHue's Lincoln Road
Orly's White Tips
OPI's Color So Hot It Berns
Essie's After School Boy Blazer
Small brush

Instructions:
Pin
Start with a base coat of white on the thumb, blue on the ring finger and gray on the rest.
Pin
Pin
Paint blue stripes down the middle of the gray nails. Let it dry and then add red lines on either side of them with the small brush. Clean the brush and then use it to paint the white football laces on the ring finger.
Pin
Pin
Pin
Using the small brush, paint the navy and red portions of the logo on your thumb and let dry. Follow up with the other logo details and dry. Finish with a top coat.
Check out our nail design photo gallery here >>
More football fani-cures
Pin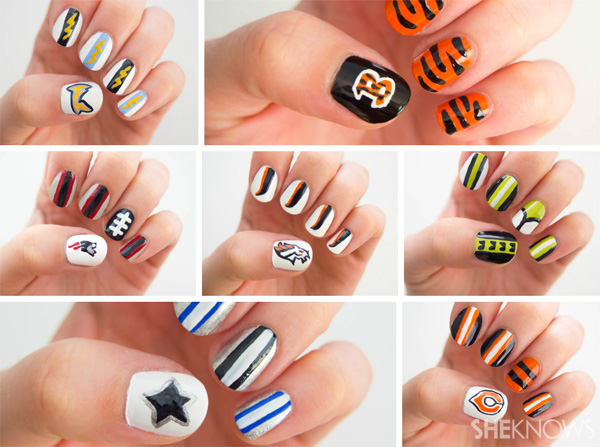 More nails
Chanel-inspired tweed and fur nails
Gilded gold leaf daubed nail art
Prada-inspired tortoise shell print nails