6 Tips for documenting your family trip
Vacation photo tips from the pros
When you head out on your next family vacation, don't forget the camera! Better yet, make sure you know what to do with it. Here are some tips from the pros to help you take fantastic family vacation photos.
Think small
Save your big bulky camera for another time. When you're traveling, you want to be able to easily grab your camera and snap a photo before the moment passes. Even the professionals swear by this tip. Family photographer Wendy Laurel of Let the Kids Dress Themselves brings a camera that fits in her pocket or bag because she's much more likely to use it. "I bring a pocket-sized film camera with zone focusing," says Wendy, "so I don't even have to think... just pull it out and shoot." Having an easily accessible point and shoot camera means more photos of those special moments.
I scream, you scream
"My kids usually groan at taking yet another photo at each of the places we stop," says Amy Smith of Amy Smith Photography. "My surefire way of getting a shot out of them is to tell them if they stand where I want, hold hands (or hug or get close or whatever I want for the moment), then I'll let them scream as loud as they want. Then I count to three slowly, and usually messing up the numbers along the way. This gets me a few smiley shots before I let the screaming commence. I can usually get a few cute shots while they're screaming too. Yes, we get some stares from other tourists, but I don't care. I'll never see these people again."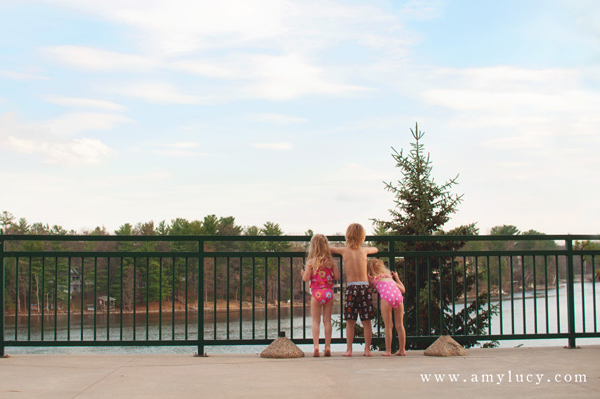 Don't be a poser
Photographer Amy Lucy Lockheart, a mentor at Clickin Moms, says she visited Wisconsin Dells a few weeks ago with her family and got some sweet photos of them exploring their surroundings (sans cheesy grins). "Stand back and observe with camera in hand as your children explore their new surroundings," says Lockheart. "Capture them taking it all in. Your kids don't have to be looking at the camera and smiling to create a memorable photograph."
If you really want posed photographs of the kids, Wendy Laurel advises saving those times where you make the kids sit still and smile for the most important moments, like a family reunion or the top of the Grand Canyon.
See the big picture
Sometimes parents get so focused (literally) on their kids' cute little faces that they forget to pull back and capture the surroundings. The result might be a great photo, but also a missed opportunity to record a memory of the location of the family vacation. Laurel advises parents to "snap photos of the sights... not just close ups of the kids' faces." She urges families on vacation to "remember to show the kids in the environment."
Amy Smith agrees: "Remember that you don't have to have your family as the focus of each shot," says Smith. "Document the sights, the food, the small stuff. It all tells the complete story."
Order and enjoy your photos
Don't let all those gorgeous family travel photos sit there, unloved, on your memory drive. Photographer Sarah Hebenstreit of Modern Kids Co. suggests making a small book for everyone in the family from an online photo site like Blurb. "Have the best images printed and mounted on bamboo," says Hebenstreit. "Try Plywerk."
Get the kids involved
Give your vacation photos a new perspective by getting the whole family involved. "Encourage the entire family to pick up the camera," says Hebenstreit. "Help the little ones compose their shots." It's often surprising and always interesting to see what the kids choose to photograph and to view things from their vantage point.
Family vacation ideas
Looking for more ways to enjoy your family vacation? Check out Family Travel City Guide TV -- you'll find everything from the best local staycation venues to the hottest family adventure spots all over the country.
More photography tips
Favorite cameras of the mamarazzi
Tips for keeping kids happy during photoshoots
Teaching kids to take better pictures
Recommended for You
Comments