7 Family travel adventures
Adventure trips for the family
Looking to add some excitement to your family's travel plans? Pack your bags! These seven vacation destinations are perfect for adventure-seeking families.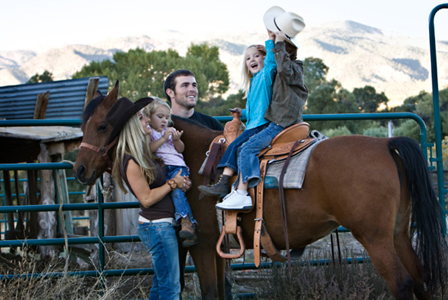 Vacation at a dude ranch
Leave city life behind and head for the ranch. The Home Ranch in Clark, Colorado, offers all-inclusive vacations for families with children ages six and up. Activities for the kids include swimming, arts and crafts, hiking and pond fishing. Of course, horseback riding and campfires are also a big part of life on the ranch.
Kayak in La Jolla
Sandcastles and surf are the perfect backdrop for dreamy family vacations. However, if you're up for more, head to the coves of La Jolla, California, for some real ocean adventures. Certified instructors from La Jolla Kayak Tours will take you and your family on guided tours of the Seven Caves. Hold onto your oars as you pass marine life such as dolphins, sea lions and leopard sharks. Children ages six and up are welcome with an accompanying adult.
Raft the Grand Canyon
If you're looking for an adrenaline-packed adventure, take the family on a whitewater-rafting trip through the Grand Canyon. Grand Canyon Whitewater offers motorized rafting trips for families with kids ages eight and up. Most families reserve their spots four to six months out, but Grand Canyon Whitewater says they often have availability with shorter notice. More information is available at grandcanyonwhitewater.com.
Explore Cinque Terre, Italy
Ready to take the family on an international adventure? Head to Cinque Terre, Italy. Nestled along the coast of the Italian Riviera, Cinque Terre is comprised of five small towns located just a short distance from each other. You can walk from town to town or hop on a train if you want to give little legs a break. Bring your bathing suits and cool off with a dip in the Mediterranean in between towns. Pack a camera, too. You'll want to capture the colorful buildings, delectable pizzas and maybe a cliff-diver or two along the way.
Hike Tahoe
Did you know your favorite store for outdoor gear also runs a family travel program? REI hosts family travel adventures including a hiking trip to Tahoe National Forest in California. Designed for families with kids ages eight and up, this adventure trip features a hike through open granite basins, alpine lakes, and mountain streams. This four-day trip includes campfires, swimming holes and time for relaxing with a good book. Get all the details on the REI website.
Bike Glacier National Park
Immerse yourself in nature with a trip to Montana's spectacular Glacier National Park. Adventure travel company Backroads offers a comprehensive trip that includes biking and hiking along alpine lakes, horseback riding, a cookout at a historic ranch and rafting down Flathead River. The minimum age for this trip is two years old, with horseback riding and rafting activities available for children five and up. Reserve your trip at Backroads.com.
Go wild in Alaska
Take the family and explore wild Alaska. The 11-day Glaciers and Grizzlies trip lets you experience the vast wilderness of Alaska's interior, as well as the beauty of the state's coastal marine environment. You'll find a great deal of travel involved (shuttle, plane, helicopter and boat) to get you into these pristine and remote areas, so this trip is recommended for kids ages eight and up. More info available on this and other Alaska adventure trips at Wildland.com.
Family vacation ideas
Looking for more ways to enjoy your family vacation? Check out Family Travel City Guide TV -- you'll find everything from the best local staycation venues to the hottest family adventure spots all over the country.
More travel tips
Secrets of stress-free family travel
Budget family travel
Volunteer vacations for families
Recommended for You
Comments