6 Time-saving beauty products for any budget
Fast and fabulous
Wouldn't it be nice to waltz into a makeup studio first thing in the morning and come out looking like a celebrity? Unfortunately, that doesn't fit the time or budget of us regular women. But you can still look like a star with some time-saving beauty products that won't break the bank.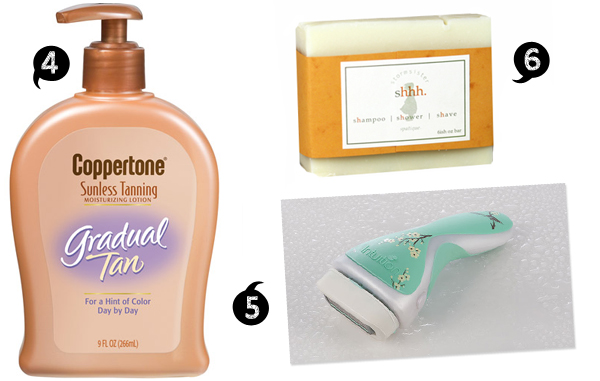 Sunless tanner
Tanned skin is beautiful, sexy and … damaged. Lying in the sun or tanning bed will give you that beachy color you crave, but it is seriously bad for your health. Any time your skin darkens from exposure to UVA/UVB rays, it's being injured. And while "pale is the new tan" for a whole generation of beautiful women, some of us still crave the slenderizing dark summer skin that looks so good in swimsuits and sundresses.
You can gradually get the color you desire without harming your skin – and without spending a fortune. Sunless tanners are everywhere and can actually be good for your skin! Do-it-yourself products include sprays, foams, gels, locations, creams and towelettes that dye the outermost surface of your skin with sugar-based dihydroxyacetone (DHA).
Find a sunless tanner that moisturizes, too, so you can eliminate the extra step and expense of a separate moisturizer. But keep in mind that most sunless tanners do not contain sunscreen, so be sure you're protected!
How to apply the perfect sunless tan >>
Razors
There are a lot of ways to remove hair from your body, but did you know that the hair removal method preferred by most dermatologists is shaving?
Many women snub razors because they believe that shaving promoters darker, thicker hair and faster re-growth. But the fact is that shaving removes hair on the surface of the skin and does not affect the follicle or the type of hair it generates.
Proper shaving with a quality razor can actually "polish" your skin and give it a healthy glow, says board-certified dermatologist Zoe Diana Draelos. In fact, shaving removes the flaky surface skin cells that can give your skin a dull appearance.
With shaving, you can avoid the pain of waxing and the harsh, smelly chemicals of hair removal creams and lotions. And shaving is convenient. You can do it every time you bathe or shower -- at home, on vacation, anywhere!
Smooth Legs 101: How to get the closest shave >>
Soap
Is your shower, gym bag or suitcase full of body cleanser, shampoo and shaving cream? Wouldn't you love to eliminate the mess of leaky liquids or the hassle of carrying them on a plane?
Shhh (Shampoo, SHower, SHave) is a new "three-way soap bar" that replaces messy and pricey products. Infused with essential oils and natural ingredients, the shhh bar is free of synthetics, preservatives, artificial fragrance and coloring. (And packaging is 100 percent compostable and recyclable.)
Shhh becomes foamy in wet hands and can be used to shampoo your hair, wash your body and shave your legs!
Fill your makeup bag for under $50 >>
More beauty tips and tricks
Simple beauty tips to feel pretty all day long
6 Easy ways to save time during your morning beauty routine
5 Quick and easy beauty musts for flawless skin
Recommended for You
Comments