Kick Back
And Tune In
There are three things you need to keep in mind when outfitting a movie room with furniture: seating, storage and snacking. Learn how to account for these three things when purchasing furniture for your at-home theater.
(page 2 of 2)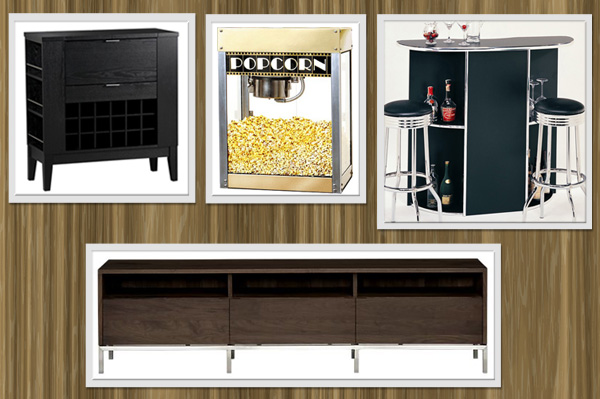 Storage
Every home movie room needs space for you to store DVDs, old home videos and your various home theater accessories. For a simple and sleek design, try Crate and Barrel's Pearson 72-inch media cabinet. Not only will it accommodate almost any TV, but it also has a series of drawers and shelves that are perfect for stowing away your extra equipment and supplies.
Snacks
Nothing says "movie" quite like a variety of snacks and goodies. Set up your own personal snack bar with the black and chrome home bar from HT Market (above). You can stow kid-friendly goodies behind the bar along with adult-friendly options like wine, beer and spirits. As an added bonus, if you purchase bar stools with the bar, your guests can sit comfortably to eat their snacks while keeping crumbs and spills away from your sofas.
If you really want to give your movie room a theater vibe, invest in a theater-style popcorn machine. The six ounce version of the Premier Home Theater Popcorn Machine from HT market is the perfect size for home-use.
More tips for family media rooms
How to decorate your movie room
How to set up a movie room on a budget
Best TVs for your family media room