Low-calorie cocktails
Skinny sips
What fabulous femme fatale doesn't love to let loose with a cocktail (or three) after a hard day's work -- or, hell, simply after a long day lounging in the sun? We're not judging… we're right there with ya! But all those cocktails can equate to some serious calorie intake, so you might want to consider swapping out your usual calorie-laden liquid lovelies for some low-cal cocktails. Give these four simple sip swaps a try to ensure you stay svelte in your suit all summer long. And get inspired with some low-cal cocktail recipes, too.
Low-calorie cocktail recipes
Get inspired to sip on the slim with these four low-cal cocktail recipes on SheKnows: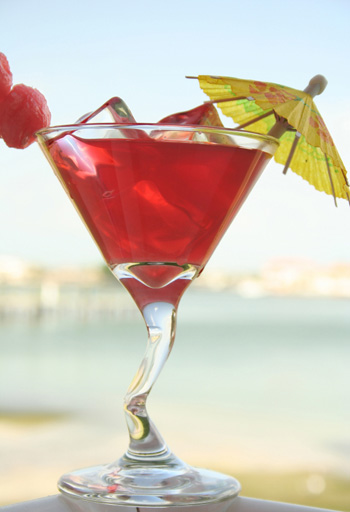 Pomegranate Champagne Cocktail
Give your plain old bubbly a little color with delicious pomegranate juice.
Get the Pomegranate Champagne Cocktail recipe >>
Easy Watermelon martini
This cocktail is so refreshing, you'll wish for summer all year long.
Get the Easy Watermelon Martini recipe >>
Chambord vodka soda
Give your ordinary vodka soda a kick with a splash of Chambord.
Get the Chambord Vodka Soda recipe >>
Taste of the tropics
Get that tropical feeling without a heavy drink like a Pina Colada.
Get the Taste of the Tropics recipe >>
| | |
| --- | --- |
| | If you've indulged a bit too much and you're left with a screaming hangover, nosh on a banana. Bananas are packed with potassium -- a nutrient highly diminished after a night of drinking -- as well as magnesium, which can help ease a pounding headache. |
More cocktail recipes for summer
Cucumber mojito and other summer cocktails
Trendy summer cocktails
Cool & fruity cocktail recipes
Recommended for You
Comments