Low-Calorie
Breakfast Recipes
News flash: Eating a glazed doughnut washed down with a cup of coffee will only leave you feeling tired, sluggish and hungry by 10am. Get your day started off right by trying our 5 healthy breakfasts under 300 calories. You will have more energy, feel more alert and will even lose a few pounds! Check out these healthy breakfast recipes, and your waistline (and your boss!) will thank us.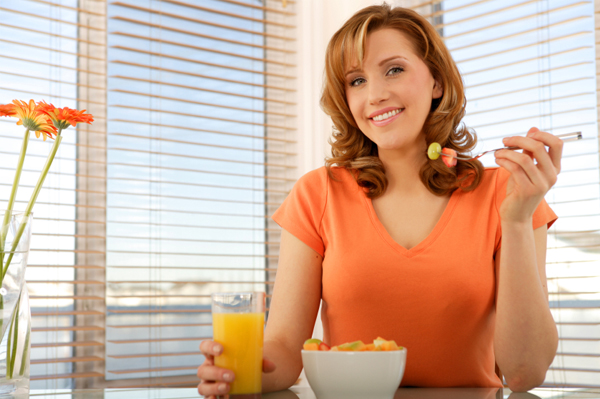 The federal government just released the new Dietary Guidelines for Americans, which focused on preventing and reducing obesity, and it was no surprise to many that eating a nutritious breakfast is one of their top recommendations.
"These guidelines encourage people to eat a nutrient-dense breakfast every day in order to help meet nutritional recommendations and help manage their weight," says registered dietitian Isabel Maples, M.ED., R.D., who goes on to say that breakfast also helps improve brain power. "Research supports a positive link between eating breakfast and cognitive and academic performance."
These 5 healthy breakfasts are all under 300 calories, and they will help fill you up without filling you out. Many of these recipes are more than one serving, so make sure you are mindful of serving sizes and portion sizes to keep your calories in check.
Chef Julie Korhumel's Oatmeal with Yogurt and Fresh Berries
Dr Janet Brill, author of Prevent a Second Heart Attack: 8 Foods, 8 Weeks to Reverse Heart Disease, says this recipe is "delicious, nutritious and just 200 calories." This recipe has six servings, so prepare the night before and you have breakfast for the entire work week!
Ingredients
1 1/2 cups quick-cooking oats
3/4 cup fat-free vanilla yogurt
1/2 cup orange juice
1 tablespoon honey
3/4 cup fresh raspberries
3/4 cup diced strawberries
1/2 cup fresh blueberries
1/2 medium apple – peeled, cored and coarsely grated
3 tablespoons flax seed
1/4 cup chopped walnuts
1/4 teaspoon ground cinnamon
Directions
In a large bowl, combine oats, yogurt, orange juice and honey.
Let stand 5 minutes.
Gently fold in raspberries, strawberries, blueberries, apple, flax seed and walnuts.
Sprinkle with cinnamon.
Cover and refrigerate overnight. Serve cold.
Serves: 6
Calories: 200 per serving
Savory Vegetable Scramble Wrap
Ingredients
2 tablespoons green onion, finely chopped
3 ounces (5 to 6 stalks) asparagus, chopped into one-half inch pieces
1/4 cup red bell pepper, chopped
1 cup (8 ounces) All Whites(R) egg white substitute product
1/8 teaspoon garlic powder
1/4 cup (1 ounce) shredded low-fat Swiss Cheese
2 (10x7 inch) multi-grain, 100% stoneground whole wheat wraps, cut in half crosswise (Flatout Light brand has 90 calories per wrap)
Directions
Spray 10-inch non-stick skillet with non-stick cooking spray. Heat over medium heat.
Cook onion, asparagus and red pepper 4 to 5 minutes, stirring occasionally, until vegetables are crisp-tender.
Reduce heat to low. Slowly add egg substitute product. As egg whites start to set, use spatula to lift edge of eggs, letting uncooked eggs flow to bottom of skillet. Cook until egg whites are set but still moist. Season with garlic powder. Stir in cheese.
Place multi-grain wraps on microwave safe plate. Cover with paper towel. Microwave on HIGH 10 to 15 seconds or until warmed. Place about 1/2 cup of the egg mixture in center of each wrap. Fold over each side of wrap to create sandwich. Secure with toothpick.
Serves: 2
Calories: 160
Orange and Fig Baked Apples
This yummy twist on traditional baked apples is courtesy of Sophie Pachella, founder of Eatstrong.com.
Ingredients
4 large apples
4 dried figs, chopped
3 Tbsp pistachio nuts, chopped
Zest of half an orange
Juice of one orange
1 cup just boiled water
1 cinnamon stick, halved
6 oz. Greek yogurt, to serve
Directions
Remove the core from the apples.
Mix the figs, nuts & orange zest together and fill each apple with the mixture.
Put the orange juice in a jug and fill up with the water and pour around the apples in a baking tray, add the broken cinnamon stick.
Bake for about 50 minutes until apples are tender and serve with Greek yogurt.
Serves: 4
Calories: 204 per serving
French toast
"As a registered dietitian, my clients are always asking for healthy breakfast ideas," says Mary Barbour, who shared this recipe with us.
Ingredients
1 Thomas' Light English muffin
1 t canola oil
1 tablespoons organic maple syrup
1/2 cup sliced strawberries
1/2 cup egg white substitute
Directions
Slightly toast English muffin.
Coat pan with 1 t canola oil and heat at medium heat.
Beat 2 egg whites.
Dip toast in egg whites and cook for 2 minutes on each side.
Transfer to plate and top with fruit and syrup.
Serving size: 1
Calories: 278 per serving
Quick & Easy fruit smoothie
"For less than 150 calories, and in less than 5 minutes, you can have a fruit smoothie," says Brandi Koskie, senior editor of DietsInReview.com. "It has got fiber, protein and it's delicious! Add a handful of spinach for barely any more calories and a tasteless way to boost the nutrition."
Ingredients
1/4 cup frozen unsweetened raspberries
1/4 cup frozen unsweetened blueberries
1/4 cup frozen unsweetened strawberries
1/4 cup skim milk
1/4 of a banana
2 tablespoons of plain, non-fat Greek yogurt
Directions
Put in a blender and mix until pureed.
Pour in glass and enjoy!
Serving Size: 1
Calories: 107
More healthy weight loss tips