Sexy baking
Bake yourself sexy
You probably don't need a GPS to figure out the way to a man's heart. But if it were up the greeting card industry, you'd be on the road to romance only a few times a year. Why limit yourself? These mood-setting ideas and sexy baked goods and sweet treats will be sure to send sparks flying, bring sexy back, and have you on the freeway of love in no time.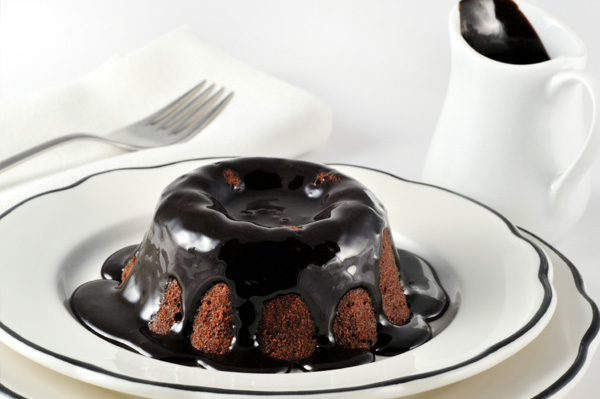 Chocolate Molten Lava Cake
You can't get much sexier than a dessert that oozes chocolate and melts in your mouth. Serve with whipped cream or vanilla ice cream to take things over the top.
Classic Crème Brulée
You can't beat this classic: Silky and creamy vanilla custard topped with a caramelized sugar topping. The smell alone will ignite sparks.
Chocolate Truffles
The French have a way of making most anything sexy. Since truffles come in bite-sized portions, they're a great way to get the object of your desire eating out of your hand.
Sweet Cherry Pie
The flaky pastry combined with the sweet fruit filling will make your mouth water and have you licking your lips.
Baked Alaska
Ice cream and meringue are the staples of this delicious dish. The quick cooking time will allow you to move on to, ahem, other things.
Champagne Ice Cream
Nothing says romance like champagne. Not really a baked good but sexy nonetheless, Champagne Ice Cream is easy to make and gives you a good excuse to open a bottle of bubbly.
Ingredients
2 egg yolks
1 cup of milk
3 tablespoons of powdered sugar
Rind for half a lemon
1 glass of champagne
¼ cup of whipped cream
Directions:
Over low heat, combine the milk, sugar and lemon rind in a medium-sized saucepan. Add the egg yolks and stir constantly over low heat until the mixture comes to a boil.
After it comes to a boil, remove it from the heat. Remove the lemon rind and let the mixture cool. When the mixture is cold, fold in the whipped cream and the champagne. Put the mixture into a metal container and freeze it for an hour. Every 20 minutes or so, use a blender to mix the ice cream.
Serve in champagne glasses and pour the champagne over the top.
The next time you're ready for romance, start with dessert. It may lead to breakfast in bed.
Romantic recipes for Valentine's Day
Recommended for You
Comments