Volunteer vacations for families in the U.S.
Top 10 family volunteer vacays
 If you're looking to strengthen your family bonds and teach your kids the importance of helping others, consider taking a family volunteer vacation. Most people assume they need to hop on a plane and cross the ocean to help those in need, but there are actually a number of volunteer destinations right here in the U.S.  When choosing a volunteer vacation, be sure to take into consideration the age, skills and personalities of your family members. Following are 10 exciting volunteer trips: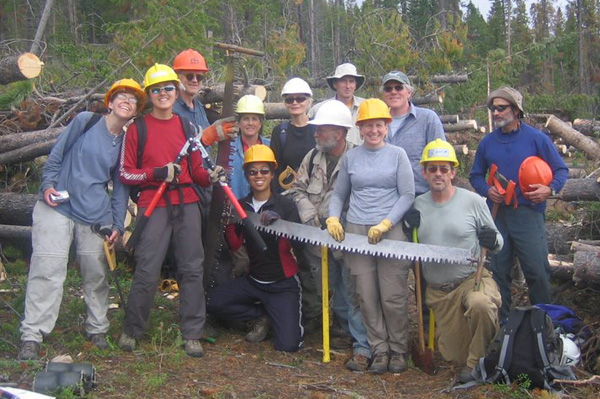 Habitat for Humanity Global Village Trips
Pick up a hammer, and join Habitat for Humanity on their mission to build simple, decent shelter for families in need. Habitat for Humanity Global Village Trips combine work, rest, and participation in cultural activities in the community. Families will work alongside homeowners and volunteers from various backgrounds, giving kids the opportunities to learn from others.
Volunteer staycation
If a staycation is in your future, American Express and Take Part have made it easy to find your own volunteer opportunity. Just visit the Members Project website, and search by location or keyword to view a list of organizations in your community that could use your help.
Global Citizens Network (Rock Point, AZ)
Immerse yourself in the culture of the Navajo Nation with a Global Citizens Network service trip. GCN projects focus on refurbishing community buildings and farm/field work in this unique community, located in Rock Point, AZ, near the Four Corners.
Wilderness Volunteers
If you've always dreamed of being a park ranger, join Wilderness Volunteers on one of their many service projects in America's park lands. These are physically demanding trips, so the minimum age to participate is 18, with some exceptions for 16 and 17 year olds accompanied by a parent.
Global Volunteers
Billed as the "Granddaddy of the volunteer vacation movement", Global Volunteers has been offering short-term non-profit volunteer opportunities for 25 years. Join one of their week-long programs in Appalachia, Minnesota or Montana, and help improve the quality of life for the families in these communities.
References and resources
Volunteer vacations for teens
More teens are choosing to spend part of their summers outside in the woods - away from cell phones and video games, but close to nature. Volunteer Vacations for high school students with Washington Trails Association are fun, teach new skills, and maintain backcountry trails for hikers.
More on volunteer vacations
Recommended for You
Comments