Quick And Healthy Meal Ideas
Busy schedule? Hungry household? You need a way to eat healthy without spending hours in the kitchen prepping and cooking; here are seven easy ways to find nutritious, convenient food.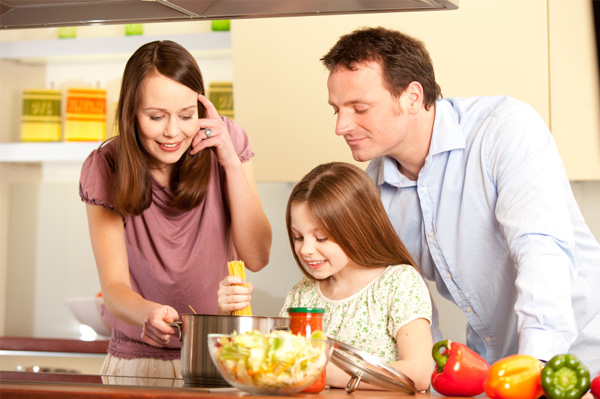 Drive-through
While eating from the drive through isn't usually the best choice, you might not have time for anything else. Fast food restaurants now offer many healthy and quick choices. Opt for sandwiches made with lean meats and plenty of vegetables, a grilled chicken sandwich, or a baked potato (hold the butter and sour cream and top with broccoli instead). Drink water or unsweetened iced tea, and hold the mayo or other dressings if you're counting calories.
Some assembly required
Dinner assembly facilities, like Dinner Done or Let's Dish, provide all the recipes and ingredients for fresh, healthy meals. All you do is assemble them in freezer-safe containers. Stock up and you can have a home-cooked meal ready in a snap. (Bonus: the kitchen staff cleans up after you!)
Stock the pantry
Fill your pantry with healthy convenience items that can be combined to make a meal. Tuna pouches with crackers, whole grain pastas with bottled marinara sauce, canned beans, and low sodium soups are building blocks for tasty, quick meals.
Microwave it
Want a healthy, whole grain side dish? Microwave a pouch of brown rice. A fiber-filled snack? Pop a bag of popcorn. Hungry for a quick breakfast? Stir up some instant oatmeal.
Freezer freedom
Your supermarket's freezer case holds your next healthy meal. Check out the whole grain frozen waffles or bread dough, find fruit for smoothies, or vegetables that can be steamed in your microwave. Don't forget veggie burgers, healthy skillet meals, and microwave entrées.
Produce paradise
The grocery store's produce section features nature's fast foods: fresh fruits and veggies, some already cut up and bagged for you. Try pre-shredded broccoli coleslaw or packaged fresh fruit chunks. Check the packaging for recipes and menu ideas, as well. On your way out, pick up a rotisserie chicken from the deli counter and you've got a quick, healthy meal.
Double up
When you do take the time to make a healthy meal at home, double the recipe and freeze half. Voilà—you've just made two meals for the time/price of one. Chili, soups, and casseroles freeze particularly well, but you also can freeze things like pizza dough, quiche, or biscuits, and muffins.
Don't let a busy schedule keep you from eating healthy. Use these shortcuts to keep your meals nutritious, quick, and convenient.
Healthy snack ideas