Eat this, not that
5 Simple swaps on the go
If you're cutting calories to lose weight, restaurant meals can undo your best intentions. Giant portion sizes, hidden calories, and rich sauces make it easy to eat an entire day's worth of calories in a single meal without realizing it.
Eat this, not that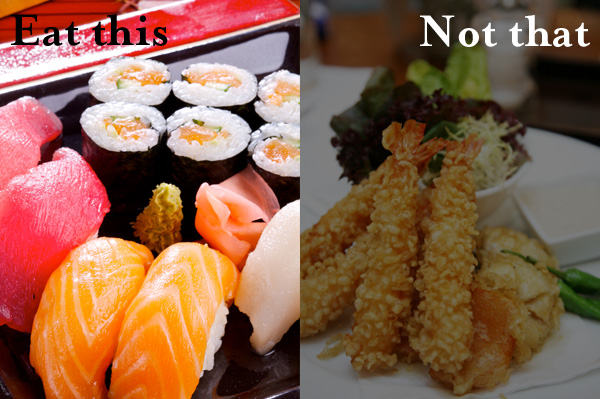 Eat this:
Sushi
Nigiri sushi: Fish-wrapped sushi
Sashimi, all types
Teppanyaki: steak, seafood, and vegetables
Teriyaki chicken
Not that:
Tempura
Sake
Plum wine
Sukiyaki
Mexican food: cheese, refried beans, and sour cream are downfalls here.
Eat this:
Gazpacho
Chicken or beef fajitas
Burrito or taco
Chicken entrées
Fish with rice
Not that:
Margaritas
Guacamole
Nachos
Refried beans
Quesadillas
Fast food burger/sub/pizza: hold the mayo, the double decker burgers, and fried offerings.
Are you sabotaging your diet?
In today's Daily Dish on SheKnows.com, Shay Pausa finds out how we sabotage ourselves when it comes to losing weight. The Daily Dish with Shay Pausa!
healthy snack ideas
Recommended for You
Comments