Eat this, not that
5 Simple swaps on the go
If you're cutting calories to lose weight, restaurant meals can undo your best intentions. Giant portion sizes, hidden calories, and rich sauces make it easy to eat an entire day's worth of calories in a single meal without realizing it.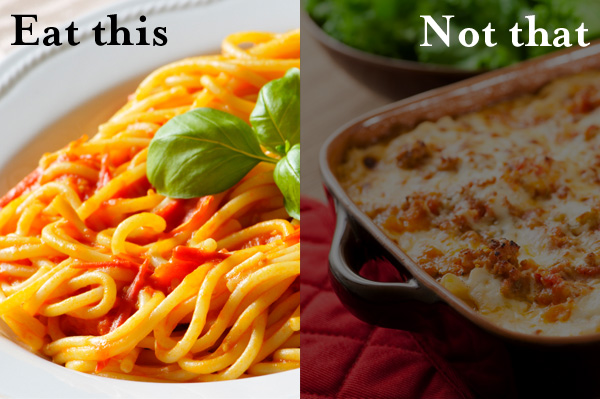 Eat this, not that
Eat this:
Minestrone
Pasta with marinara sauce
Thin crust pizza
Chicken cacciatore
Cioppino
Not that:
Lasagna
Alfredo
Thick crust pizza
Anything stuffed
Pesto or meat sauce
Japanese food: use caution with tempura and fried noodles.
Eat this:
Single burger plain or with cheese
Grilled chicken salad (dressing on the side)
Turkey sub on whole wheat (hold the mayo)
Charbroiled BBQ chicken sandwich
Thin crust pizza
Not this:
Thick crust pizza
Double or triple burgers with all the trimmings
Burgers, or anything served with bacon and cheese
Taco salads
Chicken nuggets
Up next: More simple swaps on the go >>
Recommended for You
Comments