Quick & Healthy
Snacks
Eating a healthy diet need not be a chore. In fact, if you know where to look, the easiest foods can also be the most nutritious, says Rebecca Scritchfield, M.A., R.D., a Washington, D.C., based dietitian specializing in healthy weight management. "Look in the produce department of your local grocery store for fresh and dried fruit," suggests Scritchfield. "Fruits like bananas and oranges come packaged in their own containers, making them an easy addition to school lunches and on-the-go snacks."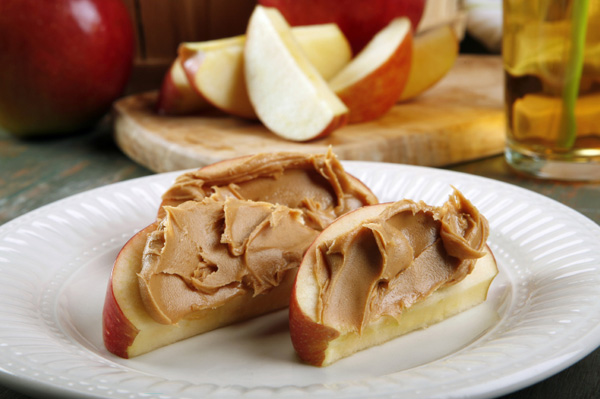 Think portion control sizes of low fat yogurt and even cottage cheese. A balance of healthy carbohydrates and protein in the form of apple slices and peanut butter or low fat cheese and other fruit works well. Just be sure to pack dairy or other perishables in an insulated cooler with an ice pack if not eating them right away.
Or try these other, easy to pack and eat healthy options:
Apples and pears
These fruits pack easily and don't spoil as quickly as others. Add a dollop of peanut butter or pack along with string cheese for a protein-carb combo.
Individually wrapped dried fruit
Fruits like plums and prunes are now available in single-wrapped packages. Stash a few in your desk drawer in place of candy and sweets.
Prepacked tuna and tuna salad
Tuna and salmon can be purchased in individual serving size cans, making them easy to toss into a lunch bag with crackers and fruit in a pinch. Or choose a prepackaged tuna lunch kit containing crackers, a 3-ounce can of tuna, relish, and a mixing spoon.
Single-serve nut packets
Instead of the 100 calorie portions of cookies, look for mini peanut, almond, or walnut packets as healthier alternatives. Or pack them along with plain yogurt as a last minute stir-in for added protein and healthy fats.
Low fat cheese
String cheese and other low fat cheeses make great midday snacks. Combine with a cut up apple or other seasonal fruit for a more substantial snack.
Greek yogurt
Higher in protein than traditional yogurts, portion sizes of Greek yogurt stop midday hunger in its tracks. Mix in a handful of blueberries for added antioxidants and flavor.
Turkey and cheese roll-ups
Purchase natural, thinly sliced turkey breast and thin slices of low fat cheese, roll up together and eat out-of-hand. Toss in a piece of fruit for a more complete lunch.
Cut up veggies
When you don't have time to chop celery and carrots, pick up the precut, prepackaged versions. Try them dipped in hummus (available in the deli or produce sections) or topped with natural peanut butter.
Cottage cheese
Individually portioned cottage cheese makes a tasty yogurt alternative. Many brands now include added side portions of fruit spreads or honey if you like a bit of sweetness.
Healthy snacks for women on the go
We are all so busy these days and it often leaves us reaching for the less than nutritious options for snacks. Joining Shay Pausa in today's Daily Dish on SheKnows.com is Dr. Michelle May, nutrition expert, to shows us some delicious alternatives!
More healthy snack ideas