Makeover
On A Budget
Your child is ready for a room makeover, but all you can see is dollar signs, right? Believe it or not, it is possible to give your youngster his or her dream room without depleting their college fund. In fact, by spending less money on your kid's room makeover, you'll be able to change the look of their room more often. All it takes is a little creativity, imagination, and a few key pieces. Check out these simple kids' room fixes for less than $20.
(page 4 of 5)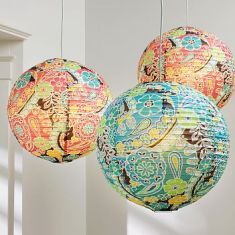 Let there be light!
Most of us think of lighting as a necessity, not as a decorative addition to a room. But lighting doesn't always have to be boring and practical. From sports-themed pendant lights to cool lamp shades, there are plenty of trendy options sure to satisfy your young room designer. Check out these vintage printed shades from The Land of Nod, selling for $19.95.
For your tween or teen, choose this paisley print round hanging paper lantern from PBTeen.com. Not only is it fun, but it's also affordable, selling for just $12.