Gather 'round the table, grab a plate and get ready for some old fashioned family time. SheKnows how to fill each meal with family fun.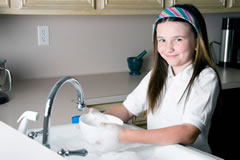 Make cleaning up fun
Instead of making clearing the dishes and cleaning up a punishment, make it a shared responsibility that is fun. Sing a favorite family song or play a game to see how fast you can get it done.
Find something you want to share?
Email this tip to a friend