Beauty in a
small package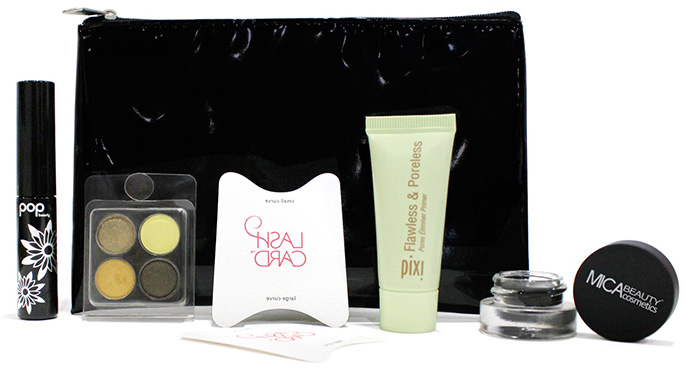 In a sea of subscription boxes, Ipsy's $10 Glam Bag has been making waves. We take a look at two Glam Bags to see how they measure up.
Subscription boxes are hugely popular right now, and for a good reason. Who doesn't love getting a package of goodies in the mail each month? When your subscription is set to auto-renew, it feels like someone sent you a lovely present. Ipsy's Glam Bag costs members $10 a month with free shipping, making it one of the most affordable subscription boxes. Are the goods worth the price tag? Let's take a look.
Glam Bag goodies
February's Glam Bag was titled "Red Carpet Ready." Each Glam Bag shipment includes a small collectible makeup bag. The collectible makeup bags make great storage for your makeup and brushes, and I've found that they also make great pick-me-up gifts for girlfriends. (Shh, don't tell my girlfriends I'm upcycling my Glam Bag goodies.) While I'm dishing on what I do with my bag contents, I'll say that I definitely enjoy giving away and trading the makeup and goodies that don't appeal to me. It's part of the fun.
Do the math
After a little investigating, I was able to come up with an estimated value of the past two Ipsy boxes.
February's Glam Bag contained:
This puts the value of the February Glam Bag at more than $60.
January's Ipsy Glam Bag contained:
January's Glam Bag was worth more than $55. I'm sold on value when it comes to what I've received for just $10 with free shipping. Out of these two bags, the items I've gotten the most use out of so far are the makeup bags, the argan oil and the mascara.
Social studies
Ipsy's Glam Bag membership includes access to an exciting social scene, where subscribers create and share videos demonstrating the beauty products from each Glam Bag. For those of us who are a little introverted when it comes to webcam videos, it's still fun to sit back and see what other women have accomplished with the makeup and tools in the box. I love the user videos. It's one thing to get tips from a gorgeous celebrity and another entirely to watch a tutorial by a young woman wearing makeup to cover her severe acne. Overall I prefer this to other subscription services. I like that the site has a community feel, giving subscribers added value and the fun of commenting on and rating user videos.
More beauty essentials
The best eyeliner pencils for bold eyes
The best blushes to help contour your face
Top 4 BB creams you need to try right now