Get shopping!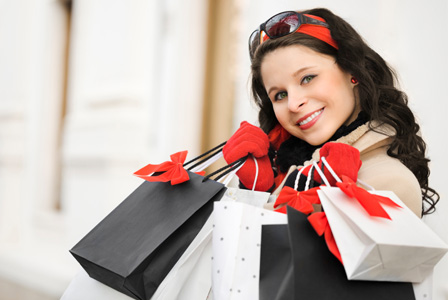 Antsy to jump-start the Black Friday shopping bonanza, retailers will be opening doors earlier than ever and will no longer wait for the day after Thanksgiving to serve deal-seeking mobs.
Black Thursday is
the new Black Friday
According to the National Retail Federation, holiday sales are predicted to increase by 4.1 percent, boosting holiday spending to $586.1 billion. Here's the itinerary of early birds to be thankful for this Thanksgiving.
Walmart
Walmart takes the scene by storm with three major events starting on Thanksgiving day with family specials at 8 p.m., gadgets at 10 p.m., and TVs, clothing and jewelry at 5 a.m. Black Friday. Boasting 1,190 items on sale, check out their hottest deals below:
Leappad 1.0 Learning Tablet ($65) and Furby ($45)
Razor Accelerator 12-Volt Electric Scooter ($79)
Fisher Price Power Wheels Jeep Wrangler 6-Volt Ride Ons (Hot Wheels and Barbie) ($89 each)
Xbox 360 4GB + SkyLanders Bundle ($149)
More than 100 video games at $10, $15 or $25 each
Fashion dolls such as Barbie, Bratz and Disney Princess ($5 each)
48" Air-Powered Hockey Table ($30)
14' trampoline with enclosure and bonus Flash Light Zone ($159)
Sears
Featuring two quakes of door busters, Sears will kick off its first round of deals on Thanksgiving Day at 8 p.m. with an aftershock at 4 a.m. on Black Friday. With a whopping 948 deals, there are savings for the entire family:
Samsung 40" 1080p LED HDTV ($430)
Women's select boots ($20) and fashion boots ($30)
Fine jewelry, 60 percent to 75 percent off
Asus X401A14" laptop w/Intel Celeron B830, 4GB RAM, 320GB HD, Windows 8 (Black) ($220)
CanonEOS Rebel T3i IS II 18.0 megapixel DSLR camera w/18-55mm Lens and 8GB SD Card ($600)
Barnes & Noble NOOK Simple Touch ($40)
Travel Concepts 20" Carry-On Spinner (assorted colors) ($35)
Kmart
Kmart's Black Friday ad shows off two sets of bargains; Black Thursday at 8 p.m. and Black Friday at 5 a.m. Premiering 48 pages filled with 1,751 deals, Kmart has a wide variety of sale items in every category. This year, they will be upping the ante by offering free layaway on most Black Friday purchases. Doorbusters include:
Satellite Boy's electric scooter (red) ($70)
Nintendo DSi - handheld game console (blue) ($80)
Buy one/get one free on all footwear
Mach Speed 4GB MP3 player (silver) ($10)
Uniden 3 Handset DECT 6.0 cordless phone w/caller ID ($30)
Canon PowerShot A2300 digital camera (black) w/free 8GB SD card ($80)
Huffy Superia 26" ladies' and men's bikes ($69)
1-Ct. TW diamond jewelry ($100)
Essential Home Manor bath towel ($2)
Essential Home vanity desk w/stool ($110)
Trim A Home 6' Blue Mountain Christmas tree ($20)
Target
Target's teaser for Black Thursday is short, sweet and straight to the point. Not too far behind the bigger fish, their shopping extravaganza starts at 9 p.m. on Thanksgiving. Highlights so far are:
Xbox 360 4GB Kinect Holiday Bundle w/Kinect sensor, wireless controller, Kinect Adventures and Disneyland ($200)
Nook Simple Touch eReader ($40)
Nikon COOLPIX L310 14.1 megapixel ($100)
Brave (DVD) ($10)
$10 Target gift card when you spend $50 or more in apparel, accessories and home
Apex 32" 1080p LCD HDTV ($147)
More on Black Friday
Energy foods to help you survive Black Friday
5 Ways to improve your Black Friday shopping experience
Black Friday shopping strategies