Treat your nails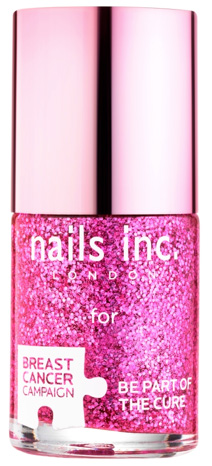 To support Breast Cancer Month, ORLY is launching their Pretty in Pink Collection, with 20 percent of the profits going to Cancer Schmancer. Cancer Schmancer is a BCA organization founded by actress and cancer survivor Fran Drescher. The collection includes two lacquers from the Flash Glam FX Collection and one new glitter shade. Each polish is decorated with a breast cancer ribbon charm. This collection is on sale for $10 starting in October.
Dermelect Cosmeceuticals is another company that's donating their nail polish proceed to a breast cancer awareness organization. Thirty percent of the net proceeds of their Provocative Peptide-Infused Color Nail Treatment will be given to CEW Cancer and Careers, a nonprofit organization of 4,000 executives in beauty-related industries. The polish will be on sale for $14 on the Dermelect website.
Nails Inc. came up with a promotion this October to show their breast cancer support. "Paint your Pinkie Pink" is a campaign that's raising money for the Breast Cancer Campaign. The limited-edition pink glitter polish will be sold for $10 at Sephora, where 10 percent of every nail polish sale is donated to Breast Cancer Campaign.
For your tresses
SHE by SO.CAP.USA, a natural hair-extension provider, is hosting Pink Hair For Hope in September and October. This promotion allows participating salons to donate $10 or more to Pink Hair For Hope in order to receive a 100 percent natural, pink SHE by SO.CAP.USA hair extension -- and a little pop of pink is a fun way to spice up any hairstyle. All of the net proceeds from the campaign go to the American Cancer Society.
"Colorcare for a Cause" is a BCA promotion from Biolage this October. The Biolage Colorcaretherapie BCA Kit, including shampoo, conditioner, Color Bloom masque and Shine Shake Spray, is on sale for $12, with $1 from each purchase donated to the Regis Foundation for Breast Cancer Research.
Make up your mind
AHAVA's unique skin care products are supporting Breast Cancer Awareness Month. AHAVA's Dead Sea skin care product, Hope Blossoms Mineral Bath Salts, will be sold on their website for $22, and $10 at Ulta. For every Hope Blossoms purchase, AHAVA will make a 10 percent donation to the National Breast Cancer Foundation.
Stila products are teaming up with the Breast Cancer Research Foundation for Breast Cancer Awareness Month. Three different eye shadow and blush palettes --- Courage and Beauty Travel Palette, Positively Pink Cheek Palette and Positively Pink Set -- will be on sale in tOctober at Stila Cosmetics. For each purchase, $1 of proceeds will go to The Breast Cancer Research Foundation.
Another skin care soap, Gianna Rose is donating 20 percent of their proceeds from each sale to Making Strides Against Breast Cancer. The stamped pink ribbon soaps, in decorative BCA gift box, are being sold for $25 on Caswell-Massey.
Skinn Cosmetics is donating 100 percent of their sales of the Twin Set Collagen Boost Lipstick and Wet Gloss in Pink Tulip to the Susan G. Komen for the Cure Foundation. Yes, you heard right -- all of the proceeds will go to this foundation! This bright and bold lipstick is sold on Skinn for $18.50.
Styled to a T
In support of Breast Cancer Awareness Month, T-shirt company Three Dots created their first BCA tee. With each tee sold, $10 is being donated to The National Breast Cancer Foundation. These classic, fashionable white V-neck T-shirts are printed with the iconic pink ribbon and will be sold for $68 at Bloomingdale's.
Lula Lu is also supporting BCA this October by donating 10 percent of their pink bralette sales to the Save the Ta-Tas BCA foundation. The Lula Lu Petite Lingerie's Kallie Lace Bra in Mulberry will be on sale at for $56. This lacey shade of pink complements all skin tones, so don't forget to grab one!
Swimwear company Voda Swim is donating $10 for every Pink Envy Push Up String Bikini in Cotton Candy sold this October. The proceeds go to the Save the Ta-Tas foundation. This pretty pink swimsuit will be sold for $110.
This October, Everything But Water has partnered with Deux Lux and created a smartphone wristlet/wallet, to support BCA. Twenty-five percent of the proceeds will go to the awareness organization Living Beyond Breast Cancer. The stylish and useful wristlet is being sold nationwide for $44 at all Everything But Water stores.
And don't forget to stop in at Kohl's this October and check out the Kohl's Cares ELLE collection. This collection of scarves, bags, pajamas, mugs and umbrellas are all being sold for $5 to $10, with 100 percent of the profits donated to the fight against breast cancer. Imagine that: You can purchase something for yourself and in return, your money goes to a great cause -- it's a "win win." Purchase these products online at Kohl's through the end of October.
The number of BCA products being sold this October is at its peak. The greatest part of purchasing any of these items is that your money will be go to a worthy cause. Hundreds of women have joined in the fight against breast cancer each year, and there's no better way to show your support than with these products.
More on shopping
Shop for the cause: Radiant Cosmetics
Dazzle in eco-friendly jewels
Shopping secrets from Brad Goreski