Beautiful Bedroom Decor
Is your bedroom decor looking outdated and drab? Then it's time for a bedroom decorations makeover! From mirrored furniture to dramatic chandeliers and luxurious linens, check out our 10 fabulous bedroom decor finds.
(page 3 of 5)
Rustic picture frame
Searching for bedroom decorations with meaning? Look no farther than the Heart of Haiti Picture Frame ($25) from Macy's. Made by master Haitian artisans, this exquisite picture frame features a border made of swirls and spirals, reminiscent of a Caribbean dance.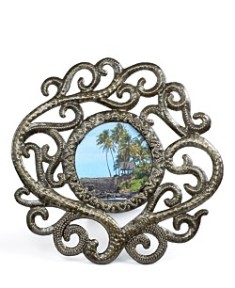 Bed bench
A bed bench is a chic, yet functional addition to any bedroom decor. "A bench or settee chaise adds extra seating at the end of the bed, and you can experiment with fabrics and patterns," Teich suggested. Splurge on this exquisitely-made American Drew Cherry Grove Bed Bench ($682.50).