Beautiful Bedroom Decor
Is your bedroom decor looking outdated and drab? Then it's time for a bedroom decorations makeover! From mirrored furniture to dramatic chandeliers and luxurious linens, check out our 10 fabulous bedroom decor finds.
(page 2 of 5)
Cozy duvet
Live in the lap of luxury in the Bella Bedding Queen Duvet (in charcoal) from Z Gallerie ($129.95). This parachute-style bedding offers 22 yards of 200-thread count cotton. The full gathering in wide channels creates a voluminous effect. Tie closures complete the chic look for this bedroom decor.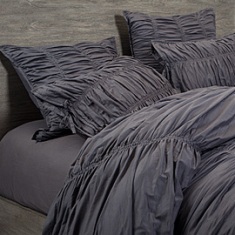 Mirrored nightstand
Talk about Hollywood glamour! A mirrored nighttable, like the Hayworth Nightstand ($199.95) from Pier 1 Imports, is a perfect piece for top-notch bedroom decor. But, be careful not to take this trend too far. "You can easily add some romance by incorporating mirrored furniture -- just one piece, or you can cross the line to tacky," Teich advised.