Make Money On Used Clothes
You buy great clothes for your children and take good care of the items, and they're outgrown long before they're worn out. You're left with great clothes in great shape--and now you have to buy more! Smart shoppers are looking for deals on brand-name and designer items that their kids just have to have. By selling clothes online, you gain room in your closets and extra cash in your wallet.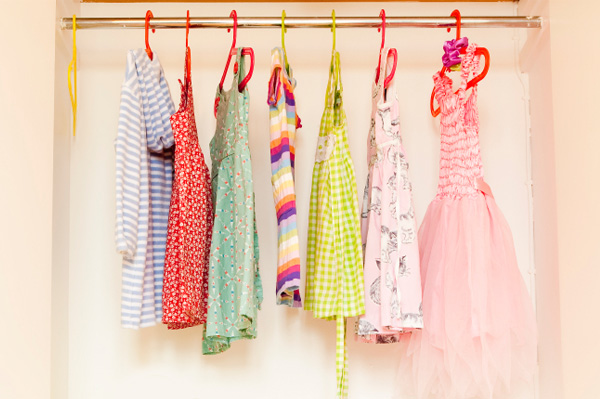 Find a venue.
Become a member of the popular online auction sites by establishing a buyer/seller account. Sending and receiving money is as easy as creating an email message. It's typically free, but may require banking information so you can pay listing fees and get paid for items before you put your wares up for sale.
Decide what you will sell.
Professional organizers recommend removing one item of clothing from a closet for every new item you purchase. Set aside only those items that you would be willing to buy for your own children. Move clothing and toys that kids have outgrown to a dedicated tote or drawer until you're ready to sell. Stained or torn clothing and broken toys are not in demand and will likely not sell.
Do your research.
Before selling anything, look for similar items on the auction site for ideas on pricing and presentation. You will set a starting price, and customer demand will determine the final selling price. The auction site gets a percentage of your sale as does the financial institution you use for receiving payment.
Sell individually or as a lot.
Pricey designer clothes may sell for more when auctioned off one at a time, but keep in mind that you pay a small listing fee and final value fee with every listing. Sometimes it makes sense to sell clothes in lots, because some buyers are looking for a specific item while others hope to purchase an entire wardrobe with one transaction. Toys are best when sold one at a time mainly because shipping costs are more reasonable.
Take & post photos.
Take pictures of individual items against a neutral backdrop. For lots, take one photo of all the items nicely displayed. You can put additional photos on your auction, but your listing fee may go up. Remember that the photo provides the first impression, so make yours a good one.
List your item.
Think about how you might search online for an item, and keep relevant keywords in mind as you create a title and description for the item you're listing. Buyers need a lot of information to make purchase decisions; they want to know size, brand, conditions, measurements, and any flaws--the more detail you provide, the easier it is for the buyer to choose your item over another's. If your home is clean and free of smoke and/or pets, mention that in your description.
Set a price.
Start low--buyers can search and sort by price, and you want your item to at least get looked at. The free market system works beautifully with online auctions because, once a buyer has found your item and likes it, his bid will encourage others to look at and possibly bid on it. The price will go as high as the market can bear.
Although the listing fees aren't too terribly expensive, you'll want to at least recoup them--you don't want to lose money on a transaction! You'll be prompted to specify a shipping method and cost, too. Be fair and honest and buy a postal scale if necessary--buyers recognize, and often ignore, sellers who overcharge for shipping.
Pick a time frame.
You can pick specific times for your auction to start and end. It's a good idea to schedule the end of the auction at a time when buyers are most likely to be online, such as a Sunday evening, but keep in mind that buyers from every time zone in the world may be checking out your item at any given moment.
Create multiple listings.
Many buyers like one-stop shopping. They may like an item you're selling and immediately take a look to see what else you may have to offer online. In your listing description, encourage buyers to check out the other items you're selling and offer to combine shipping if they bid on more than one listing.
Watch and wait.
Check your auction regularly in case buyers post questions about your item. Good communication is just one quality of a respectable online seller. If your item doesn't sell, don't give up. Many times, you'll find that relisting for a slightly lower price or during a different time frame brings better results--and more bucks.
More ways to make and save money:
More From SheKnows Explorer