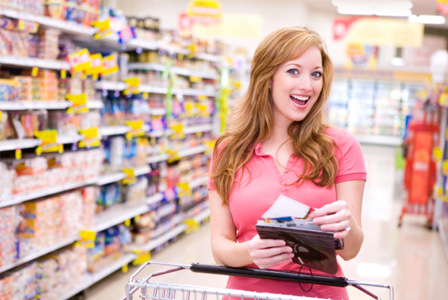 You've heard it before: "Coupons are a waste of time! What's the use in saving 40 cents? They're too much of a hassle." I used to think like that until a few years ago. But now I know better.
Coupons: Clutter
or cash?
Picture this: I was standing at the cash register in the grocery store, getting ready to pay, and I pulled out my envelope of coupons. The lady behind me sighed loudly, obviously annoyed because the wad of coupons I handed the cashier would slow things down. I smiled at the woman and said, "Lots of coupons, but I'm saving money!"
After a few minutes, the coupons were scanned, and to the amazement of the woman behind me, I saved $80! Original total: $100, savings $80 (80 percent) -- and only $20 out of pocket. How did I do it?
The secret to couponing success
A few years back, as a new stay-at-home mom and living on one income, I knew I had to find a way to save money at the grocery store and stockpile necessities like diapers. I started clipping the coupons in the Sunday paper. Then I moved on to magazines and local fliers that came in the mail. I started out using just an envelope for coupons, but as I got more involved in couponing, my storage system grew into a three-ring binder, complete with plastic baseball-card-holder pages to hold the coupons. This system has worked well for me the past few years.
Along with coupons from the Sunday paper, be sure to check these online coupon sites:
Here are seven great ways you can save with coupons -- starting right now!
At the grocery store
This is the most obvious place to save money with coupons. The biggest secret of people who save the most at the store are those who match coupons with "loss leaders" -- those heavily discounted items they feature in their ads in order to get you through their door. I have gotten jars of Ragu spaghetti sauce for 50 cents, bags of brand-name diapers for $4, Gerber baby food for 20 cents a jar -- and have taken advantage of many other great offers.
Save money when eating out
Articles about the frugal lifestyle usually recommend always cooking at home. This is an obvious way to save money, but sometimes you need a treat or a break from the kitchen! I've saved on eating out by purchasing the Entertainment book, clipping coupons from the local Pennysaver fliers, buying coupon booklets (for instance, at Halloween, McDonald's sells a coupon booklet) and of course, offers that are featured in the Sunday newspaper. And while saving is good, what about free? If you sign up for the mailing list on the website of your favorite restaurant, many offer free food for your birthday. (See a great list of birthday clubs here!) Also, keep an eye out for restaurants that offer "Kids eat free" nights each week -- you can usually get two free kiddie meals with the purchase of one adult entree. Find out about restaurants that have clubs or special offers right here.
Get discounts on car maintenance
I never pay full price for an oil change or any other routine service on our cars. We receive coupons in the mail from the local franchises and dealerships, and we use those to save $10 or more off the normal cost of an oil change. If you're going in for warranty work on your vehicle, some dealers will change the oil -- and wash your car -- free of charge.
Save on household maintenance
For household maintenance, we subscribe to Angie's List to find the best plumbers, landscapers and more. Angie's List also includes coupons, both on the website and in their monthly magazine.
Once you get started saving money by couponing, you'll be hooked -- and you'll be that much richer, too!
More on budgeting and saving
The busy woman's guide to couponing
5 Tips for shopping and saving big
Best coupon apps for the iPhone