Gifts For Your Significant Other For $100 Or Less
After the holidays, you may feel as though you've depleted your stash of gift ideas. Christmas came, and you presented your husband, fiancé or boyfriend with all of the gifts you've been saving for and itching to give. Then Valentine's Day sneaks up on you, and you find yourself clueless about what to give your significant other.
Before you dash to your local grocery store and thoughtlessly purchase a card, teddy bear and a bag of cheap chocolates, consider the following gift ideas. Each of these options is ideal for men and can be purchased for less than $100.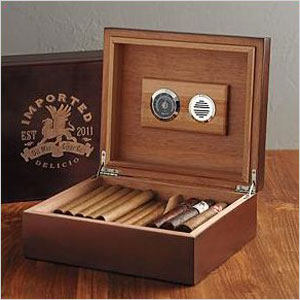 Cigar humidor from Red Envelope
For many, Valentine's Day conjures images of flowers, stuffed animals and shades of pink — things that, when combined can feel entirely too feminine for men to embrace. That's why it's a good idea to give your significant other a gift that makes him feel like a man. Consider surprising him with a cigar humidor from Red Envelope. This item features cedar-lined interior, a silver-toned hygrometer to measure humidity and a silver-toned humidifier to add moisture. The humidor is available in two styles and can be personalized. Price: $100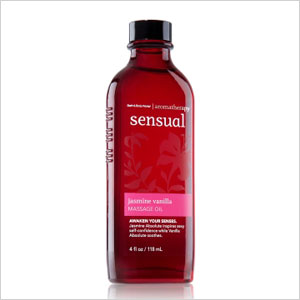 Massage oil from Bath & Body Works
If your significant other has been especially stressed lately, consider treating him to a massage. Rather than sending him to a spa, be romantic and give him the massage yourself. Bath & Body Works offers a variety of aromatherapy massage oils designed to help your man relieve stress, sleep well and feel sensual. Each of the oils feature scents that are appealing to both men and women and can be added to warm, running water for a soothing bath. Price: $16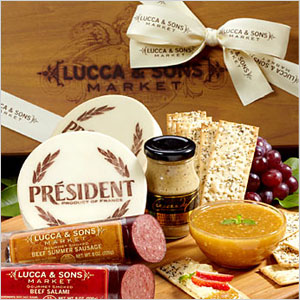 Meat and cheese gift options from 1800Baskets.com
There's nothing impressive or appealing about many of the cheap chocolates and candies that can be found packed onto the shelves of your local grocery or drugstores. If your significant other is a foodie, don't bother giving him these pink and red foil-covered calorie bombs. Instead, present him with an elegant, sophisticated gift basket filled with savory foods. You'll find a variety of meat and cheese gift options at 1800Baskets.com. The Lucca & Sons Deluxe Meat & Cheese Box, for example, includes gourmet smoked beef salami, beef summer sausage, spreadable cheese, gourmet mustard dibs and flatbread crackers. Price: $40–$85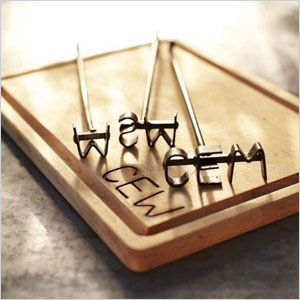 Monogrammed steak brand and carving board from Williams-Sonoma
Men who are passionate about grilling and take great care to ensure the meat is prepared and presented properly will love the Monogrammed Steak Brand and Carving Board from Williams-Sonoma. The iron brand is available in single, double or triple initials. The carving board was created from sustainably harvested New England birch and has a well to catch meat juices. Price: $70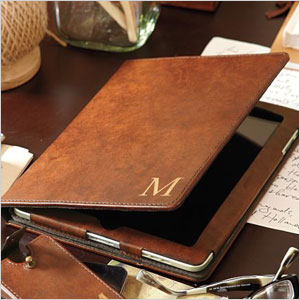 Saddle leather tablet case from Pottery Barn
Give your significant other a stylish solution for protecting his iPad with the Saddle Leather Tablet Case from Pottery Barn. This attractive case features distressed leather, dark brown faux suede interior and brass hardware. It can also be personalized with your significant other's monogram. If you've got some extra wiggle room in your gift budget, consider giving your significant other Pottery Barn's other saddle leather items, such as the phone case, business card holder and earphone case. Price: $70
More Valentine gift ideas
Valentine's Day: Our favorite men's gifts right now
Stress-free Valentine's gifts
Low-cost Valentine's Day gift ideas for your guy