Looking for a perfect present for someone special? These gifts in the $100 to $250 range will wow them with your thoughtfulness, elegance, and plain old coolness.
(page 2 of 2)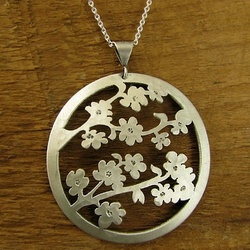 Open Flower Necklace by Chaya Caron, $149, – Disk necklaces are always beautiful with an open neckline. This 1 1/2-inch diameter one is delicate and feminine, but sturdy too. Made from recycled sterling silver, it whispers summer days and picnics in the meadow.
Sorel Cate the Great™ boots, $200, – With cold days coming, a great pair of boots is a must. These waterproof boots are inspired by Cree winter moccasins, but their sexy style will have the wearer looking hot even on the coldest of snowy days. Love the faux fur for staying warm, too.
Madison Metallic Leather Wristlet by Coach, $118, – It's shiny. It's soft. It's perfect. Every girl needs something fabulous to tuck their keys, IDs, cards, and cash into. This metallic bag is perfect for whipping into the grocery store or heading out for a night with the girls.
Cashmere Cody Cardigan by J. Crew, $158,  – Love the shape and style of this v-neck cardigan. It's a feminized boyfriend cardi, in the softest of Italian cashmere. Cozy and lovely.
iPhone, starts at $199, – When iPhones were released a few years ago, it was a huge deal (and a huge expense). Now almost everyone has them—and adores them. The newest ones feature HD video recording and editing, video calling, and more.