Celebrities Who
Survived Cancer
Let's take a look at just 10 of the many celebrities who have battled cancer and learn more about how they fought and survived the disease.
Christina Applegate
Christina Applegate went public about her breast cancer in 2008 after undergoing a double mastectomy. Christina's mom, Nancy Priddy, is a breast cancer survivor. Christina inherited the BRCA1 gene mutation, which often triggers breast cancer, so she opted for the double mastectomy, even though she only had cancer in one breast.
Sharon Osbourne
In 2002, Sharon Osbourne (Ozzy's wife) was diagnosed with colon cancer. The cancer had spread to her lymph nodes but she survived the disease against a 33% survival prognosis. MTV cameras documented her illness during the filming of The Osbournes in its second season. In 2004, she founded the Sharon Osbourne Colon Cancer Program at Cedars Sinai Hospital.
Cynthia Nixon
Cynthia Nixon (Miranda from Sex and the City) was diagnosed with breast canc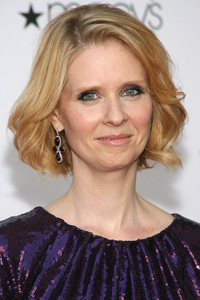 er in 2006, after the series had ended. She kept her fight very private, until disclosing her battle on Good Morning America. She has since become an ambassador for Susan G Komen for the Cure.
Fran Drescher
Fran Drescher, best known for her starring role in the TV series The Nanny, was diagnosed with uterine cancer in 2000 after two years of symptoms and misdiagnosis by eight doctors. She underwent an immediate radical hysterectomy and has now been cancer-free for 10 years. She wrote about her experience in a book entitled, Cancer Schmancer.
Robert DeNiro
Acclaimed actor Robert De Niro was diagnosed with prostate cancer in 2003 after a regular check-up. DeNiro's full recovery is attributed to early detection and his overall good health. DeNiro kept the details of his treatment and recovery private.
Up next: Melissa Etheridge and more cancer survivors >>