Eat Your
Vegetables
How many fruits and vegetables have you eaten today? A healthy diet based on plants and rich in fruits, vegetables, and grains may help decrease the risk of breast cancer by 38 percent, according to the World Cancer Research Fund and the American Institute for Cancer Research. Eating a variety of colorful fruits and vegetables provides powerful antioxidants, phytochemicals (cancer-fighting chemicals found in plants), and fiber, all of which help your body fend off free radicals and help reduce breast cancer risk.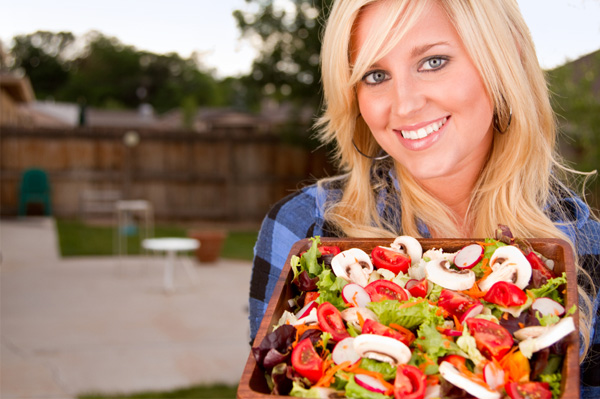 "Eating a plant-based diet helps our immune system do its job," says Kathy Allen, M.A., R.D., L.D./N., C.S.O., a specialist in oncology nutrition from the Commission on Dietetic Registration and manager of Nutritional Therapy at the Moffitt Cancer Center in Tampa, Florida. "Ideally, two-thirds of your diet should come from plant sources in their natural form. Supplements don't provide the same benefits as eating fruits and veggies in their natural form," says Allen. "The ratio of nutrients found in nature helps them work together."
The antioxidants in plant foods help reduce breast cancer risk (as well as protect against other cancers). Some antioxidants, including beta carotene, work by protecting the cell membrane. Others, such as vitamin C, patrol the watery areas of the body, including the bloodstream; you need both. Here's how to eat to reduce your breast cancer risk.
Pick a rainbow
Use the five color categories of fruits and vegetables as a guide, including the red, yellow, orange, blue, purple, and dark green. Strive to eat seven servings (1 cup raw or 1/2 cup cooked each) within this rainbow of colors every day.
An example includes beta carotene: This yellow-orange pigment is found in carrots, yams, and cantaloupes. A precursor of vitamin A, 30 milligrams of beta carotene a day (the amount found in two large carrots or one large yam) can help lower the risk of chronic disease and breast cancer. Anthocyanins, pigments responsible for the color in blueberries, cherries, plums, and red cabbage, can also help reduce the risk of breast cancer.
Other antioxidants include: vitamin E and selenium, found in beans, whole grains and nuts; and vitamin C, highest in red bell peppers, broccoli, brussels sprouts, cantaloupe, guava, kiwi, oranges, and strawberries.
Phytochemicals and fiber
Phytochemicals refer to another class of cancer-fighting chemicals found naturally in fruits and vegetables. Some phytochemicals behave like antioxidants and some actually are antioxidants, such as vitamin E and selenium. For example, broccoli contains sulforaphane, a compound that helps the body rid itself of toxic chemicals and carcinogens.
In addition, fiber from vegetables can slow the progression of hormone-dependent cancers such as those involved in breast cancer. Other cruciferous vegetables include: arugula, bok choy, brussels sprouts, cabbage, cauliflower, collard greens, kale, mustard greens, radishes, rutabaga, and turnips. The allium group of vegetables also may help and include garlic and onions, and their botanical relatives. Eat a healthy variety of cancer-fighting foods and lower your breast cancer risk.
How to reduce your risk of breast cancer
SheKnows.com gives you a few tips on how to reduce your risk of getting the second most common cancer, breast cancer!
More on breast cancer